Sequel to "Wausa, Home Sweet Home"
<!PUT PROGRAM HERE> The writing of this sequel to "Wausa, Home Sweet Home" is long overdue but now must be addressed. Remember that a key to its beginning was the set of scrapbooks assembled by the Engdahl family in California and secured in recent years by Chuck Leypoldt. Chuck's website on Nebraska churches is a primary link on Dalakarl.com for good reason...it's awesome. While I mined those books for every nugget possible, it was our mutual purpose to get them back into the hands of the Engdahl family. This is the story of how that, most improbably and delightfully, came to be.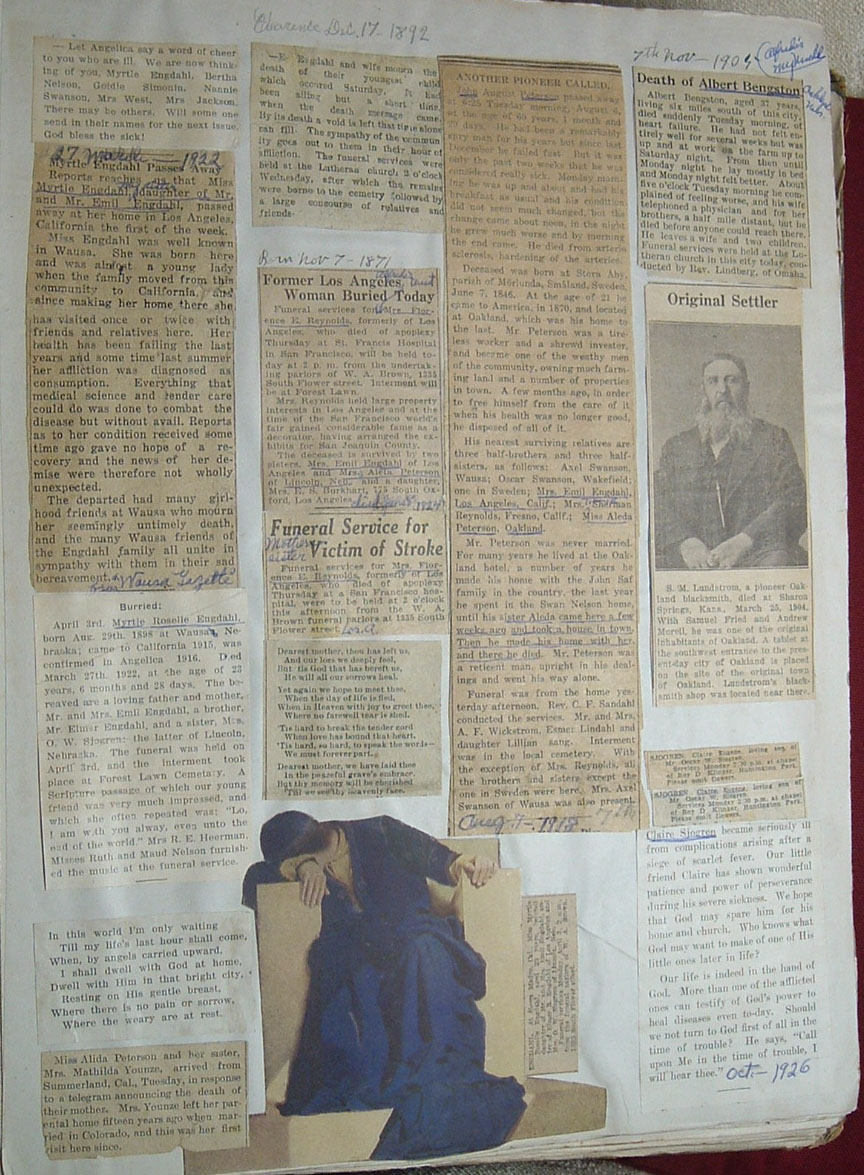 A page from the Engdahl scrapbooks
Another item for the sequel: more details on the "preachers' farms" which were common to Wausa and Stromsburg. When Rev. K.F. Larson arrived at Wausa to be the first called pastor of the Swedish Christian Congregation (now Evangelical Covenant) he built a farmplace. We have learned that this is the place recently occupied by Lonnie Anderson, just north of the Nordstrom acreage recently occupied by Don and Ruth Banks. In earlier years a lane from the south accessed this place as we remember it; now it is accessed from the east. Of additional interest is that a daughter of Rev. Larson, Mae, became the wife of great uncle Edwin Johnson, grandma Alma Johnson Gustafson's brother.
K.F. Larson's place viewed from Nordstrom's
We have also determined the location of the first Greenwall farm; a "forty" at the half mile line north of the park on the west side of the road. What is remarkable about this location, apart from its small size, is the clear view of the cemetery just a half mile to the east. >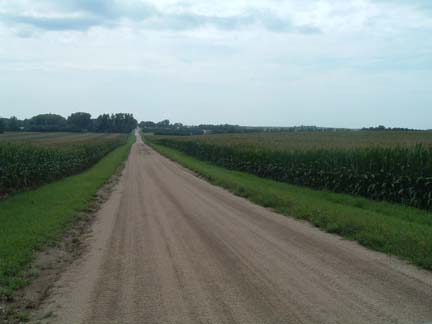 Looking south to Wausa park, and east to Woodlawn Cemetery
When John Greenwall and Elisabeth Carlson were married in 1901 at Stromsburg, they took a honeymoon trip back to Sweden. Both proceeded to bring their parents, and John the remainder of his siblings, to America. Procuring this forty was perhaps part of the preparation made for their arrival in Wausa. The Carlsons settled in Stromsburg where we have discovered many of John's in-laws we did not know of before. The Engdahl name does appear in the Centennial book and was the basis for the beginning of the quest to find descendants. Here is a summary of the thinking at that time: "Searching for Engdahls Having the windfall of the Emil Engdahl family scrapbooks, probably attributable to Mrs. Engdahl and/or her daughter Alfrida Endahl Sjoquist , we are trying to link this former Wausa family with descendants we might know. Reading through Wausa's impressive centennial book, we find that schoolmate Joyce Malmstrom Dalton may be such a link. Joyce's grandmother Helen Malmstrom, was an Engdahl, the daughter of August Engdahl, who was Emil's brother. The Engdahl scrapbooks contain a newspaper report of Helen's wedding to Victor, whom she had met while they both worked in Lindsborg, KS. It goes on to say that they were living then with Charles Engdahl at Oakland before coming to Wausa. Charles was brother to Wausauns Emil and August and was among the Engdahls who remained at their earlier locale of Oakland.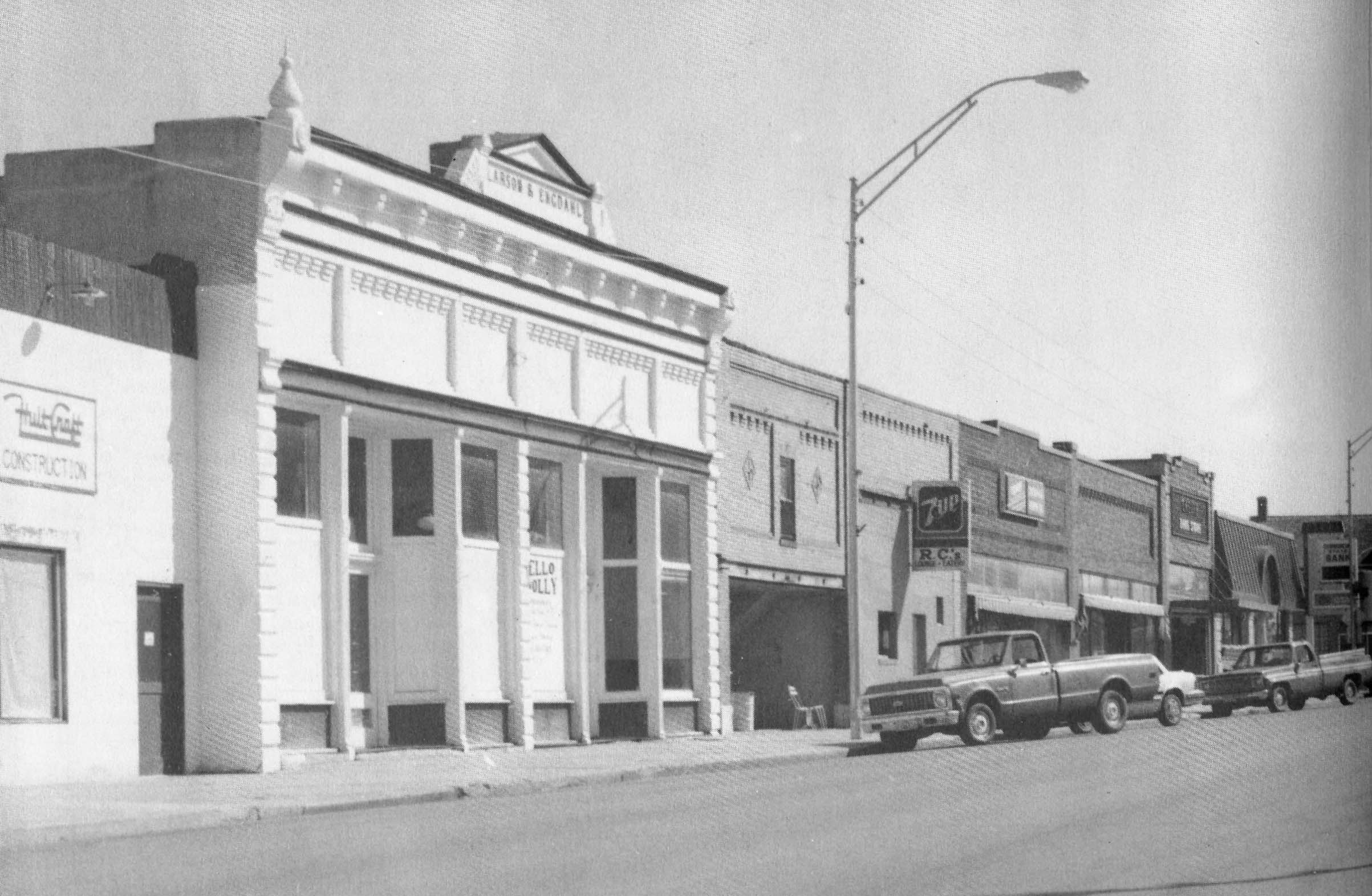 Look up to the Larson Engdahl sign, on Wausa's main street
this was August Engdahl's implement dealership
The scrapbooks detail the Oakland relatives extensively. Among Victor and Helen's children was Williard; father to Joyce. Another Engdahl to come to Wausa was Emil and August's sister Amanda. She had several children by her first husband, P.M Peterson, in Oakland, before marrying Charles A. Johnson and moving to Wausa. One of their sons was Ernest and his son, Roland, continued to farm at Wausa into the more recent past. Emil Engdahl had acquired numerous farms before moving to California, the Nels A. Johnsons rented one of them for a time, and his (Emil's) heirs appear on various plat books including a quarter section owned by Alfrida Engdahl Sjoquist." These faint veins of gold were hard to trace, but may still lead to profitable ends. They were all but forgotten when a mother lode appeared in quite another quarter. Behind that discovery lies the following tale: The lure of a Swedish Heritage Center housed in a former Swedish Mission church in Oakland, Nebraska, was too strong to resist for long. When making the pilgrimage to that place (see the Oakland section, Dalakarl.com) we became acquainted with Jerry R. the volunteer curator. Jerry and I had a lively correspondence and shared interest in immigrant church stories. I miss his companionship but value our times together. He contacted me when an author with roots in the rural Burt county Elim church was scheduled to host a book signing at that place. Again, it was an event not to be missed and a chance to visit historic Swaburg where Elim is located. We met there and graciously received copies of their various anniversary booklets when members realized we were amateur historians. It was one of those books which figures in this story, but if you miss "the rest of the story" contained at the website location cited above, it would be a shame. This happened before the scrapbooks arrived, and so it was only many months later when reviewing them that a name jumped out at me: there were Engdahls in Elim's history! The Wausa Engdahls had family in Burt county we knew from many clippings in the scrapbooks. Beside keeping a subscription to the Wausa paper, the California Engdahls received the Oakland paper and saved every relevant news item and obituary. Through the network of Augustana pastor friends we rely on, one of the Engdahls of Elim was contacted. Below is the picture that held the key.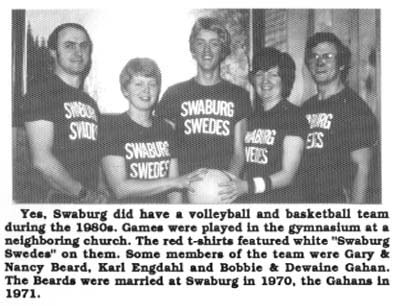 Bobbie Gahan was an Engdahl, and interested in family genealogy. This was just the windfall hoped for in reuniting the scrapbooks with rightful owners...it was a golden moment. At that very time the Engdahl and related clans were planning a reunion at the Oakland park. She invited us to attend that reunion and bring the scrapbooks along.

Here is her letter:

"Good morning Pastor Judy and Bob,
Yes, I would be very interested in this book. I have been doing what I an to fill my family tree. Saw many Engdahl family this weekend as Weldon and Nellie Engdahl's granddaughter, Krin Bergquist, was married.

Those five in the Swaberg Swedes T-shirts are us three Engdahls and our husbands, Dewaine Gahan and Gary Beard. We had a church volleyball league that we played in...

In September there will be a Swanson family reunion in Oakland and many of them are from Wausa. I'm sure they would like to see this book also...

-Bobbie Gahan."

While it is not common to attend a family reunion of people we have never met, this was a reunion of the past with the present and hopefully the future that brought rich family tradition back to life for a family. After absorbing Wausa history from these scrapbooks for several years, they were only parted with with some sorrow, but what a fitting close to that chapter... and this sequel.