August, 2007

A Trip to Burt County

There were several reasons drawing me to Burt County in search of Swedish church beginnings. The prominence of Pastor John Peterson, whose influence among Mission Friends in the region was so significant was one of these reasons. Andrew Hallner, whose story is told in the section "Three Swedish Churchmen from Saunders County", said of Peterson that he was the first to bring the Waldenströmian doctrine to the region. We understand this to mean not only the particular doctrine of atonement which became the focus of controversy, but rather the whole package of free church practice which Waldenström came to represent to Swedish revival people on both sides of the Atlantic. John Peterson had served in Des Moines and was a colleague of Björk at Swede Bend. He established a farm near Oakland and from this base preached throughout eastern Nebraska including my home church of Wausa, and built up the Oakland Salem church which still exists. "His is a story that deserves to be told."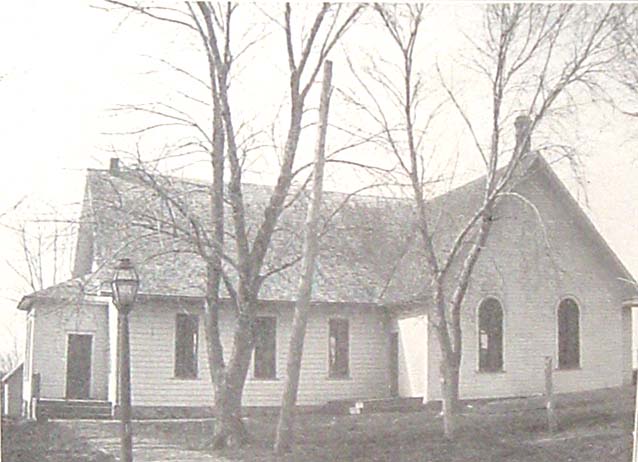 Oakland Salem Covenant Church then
The Salem church has its own interest for me. When two young Nebraskans traveled far away to college at North Park, Chicago, they became friends living across the hall from each other in the Burgh Hall dormitory. I was one and Larry Hansen from Salem was the other; our dorm counsellor was Phil Johnson who later reincarneated Pietisten magazine. My first trip to Oakland was with Larry. My most recent visit was as supply pastor to stand in for, I believe, Allen Eagle. Our friend, Bob Kronberg, had served at Salem before coming to Stromsburg. As sometimes happens, the visit here described revealed that we had been "turned in directions" in our past visit and remembered the place exactly ninety degrees askew from its real orientation. On our supply preaching visit another friend, Leon Anderson, and his sister Jan Hanson from Emerson came down to hear us. Leon, who by then had spent years in Texas listening to Baptist style evangelical preaching, commented that mine was a "typical Covenant sermon." I was not sure whether this was complimentary or not, but took it to be.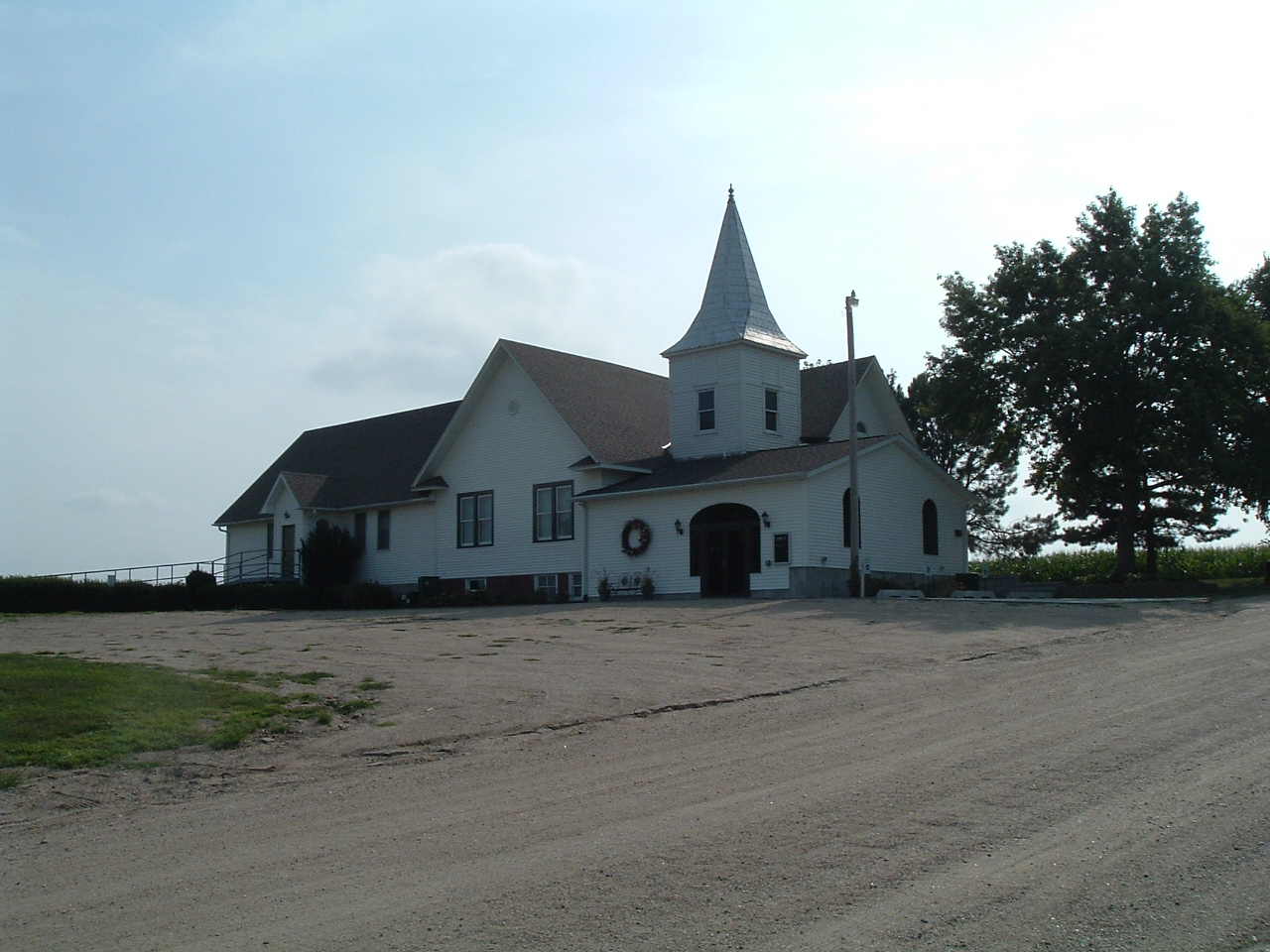 Oakland Salem Covenant Church today
Finally, the story of the Wausa church into which I was born and reborn cited John Peterson as a significant founder. It was part of a chain of churches known as the Logan Valley; Oakland Salem, Oakland, Pender, Wakefield, Wausa, Bristow and Randall Valley. There was a geographic and generic tie with Burt County that included the names of Wausa people who had migrated in this general northwesterly direction from points of origin in Sweden and often spent some time in the Oakland area.
Our trip to Burt County was anchored by the Oakland Salem (Mission) Covenant church southwest of the town of Oakland. But it was also west of town, in a school house, that Lutheran Pastor S.G. Larson who figured in the Saunders County story visited a band of Swedish immigrants eager to start a church. The year was 1869. It was not till 1878 that a building in Oakland had been constructed and a full-time pastor called. Prior to that the congregation had met in two school houses: one in town and one six miles west. Pastors J.S. Benzon, J. P. Aurelius and J. Torell had served part-time sharing duties with the Swaburg Elim congregation to the south.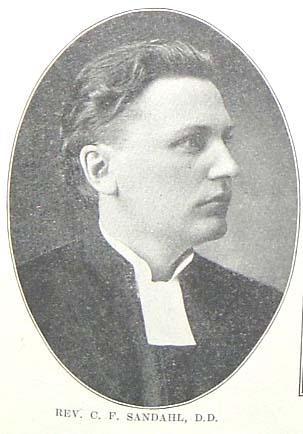 Rev. Charles F. Sandahl, historian from Swede Home, Nebraska
C.F. Sandahl, to us the dean of Nebraska Swedish church historians and for many years pastor at Oakland, tells of "factional strife" in these congregations. In 1874 it was noted that eighteen communicants had withdrawn to form a Mission church (Salem). By the time Torell was called, he came knowing that "factional strife had all but blasted the congregation." (Sandahl p. 203) Indeed, "withdrawals were so frequent that hardly one-third of the members remained, and the general opinion was that the congregation was rapidly nearing dissolution." (Sandahl p. 201) It should be remembered that at the time, the railroad had not yet made its way to Oakland, and it did not yet appear which neighborhood would become dominant. Torell is commended for deciding on the correct location for the church in Oakland proper.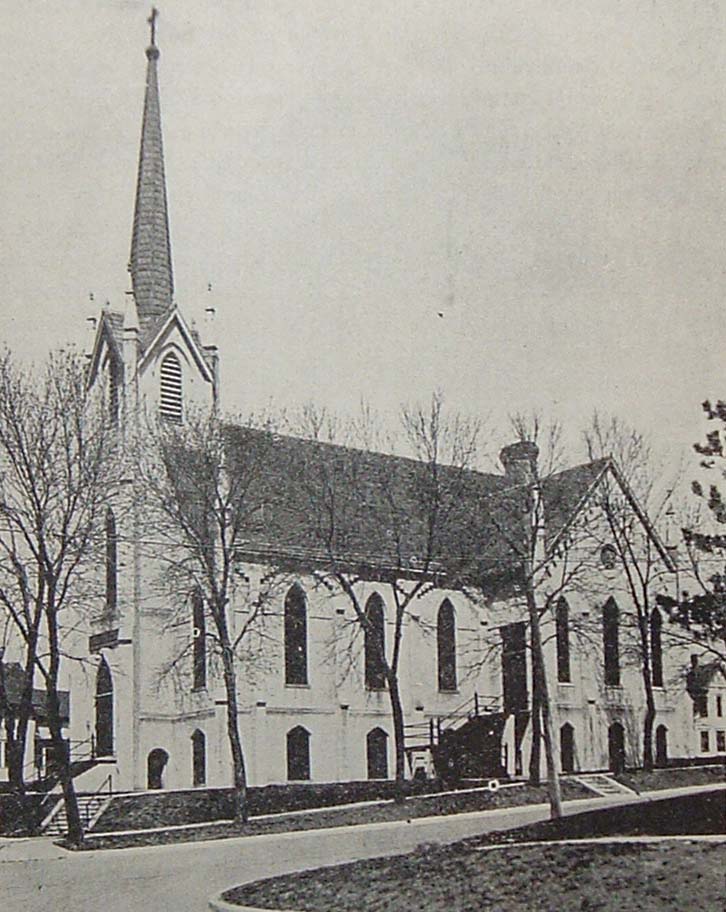 Oakland First Lutheran at its prime
But perhaps it was not only the Mission Friends who had "blasted" the Lutherans. In the early seventies a group of Swedish Methodists had come from Burlington, Iowa, to Burt County and formed a congregation just northwest of Oakland called West Side. P. Lindquist was the missionary to Nebraska in 1872 and is credited with helping found this church. O.M. Nelson's 1927 booklet "Swedes in Nebraska" dates the church from 1877, the same year as Salem, and cites a membership of 200. But he credits the Swedish Baptists with having the first church in Oakland itself, organized in 1869, the oldest one in the state and second largest at 179 (second only to Stromsburg). It should be noted that by the time of Nelson's book, the Lutherans had reached a membership of 563, the largest in Nebraska. There seems to have been ample numbers of Swedes to go around.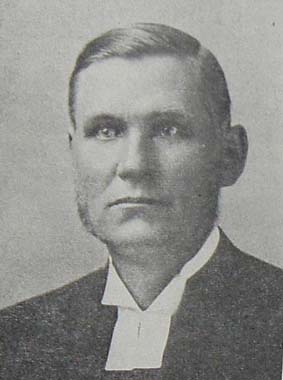 Rev. J. Torell: he came to a congregation which had been "blasted"
We cannot fault the Augustana people for laying claim to being a kind of "official" Swedish church. The official church of Sweden was nominally Lutheran, acting as a civil agent in matters of record keeping of the population, and this was a mentality that transferred with the immigrant population itself. But the revivals in Sweden had introduced various strains: George Scott of the Stockholm church was Wesleyan, early separatists from Lutheranism were the Baptists following German examples. The Methodists from Burlington who came to Oakland were already convinced of the Hedström brothers' claim that Methodists "read Luther better" than the Lutherans. The Baptists were also of a strong persuasion that persecution could not dissuade. Early arrivals of these groups who attended the school house meetings of S.G. Larson and the others were quick to join their true comrades once they came on the scene.
Oakland First Lutheran today: the church of S.G. Larson, Benzon, Aurelius, Torell...and Sandahl
But John Peterson and the Mission Friends were building on different ground...a new Swedish Lutheran Synod without the air of "officiality." Before long the word "Lutheran" would disappear from their title, as would the word "synod." They would conduct worship in a less formal manner. Their pulpits were open when Augustana's had been closed. Membership was open to believers, but only believers. Baptism whether in infancy or adulthood did not secure membership, rather it was by confession of faith. The Lutheran creeds were adopted, then later dropped. This was the point of view that sapped the Lutheran congregation of so many early members. There is no doubt that Peterson, particularly, pursued the issue aggressively to the dismay of the Augustana people. John G. Sandquist, for example, had been a charter deacon in the Augustana group and then became a member of the first Salem board.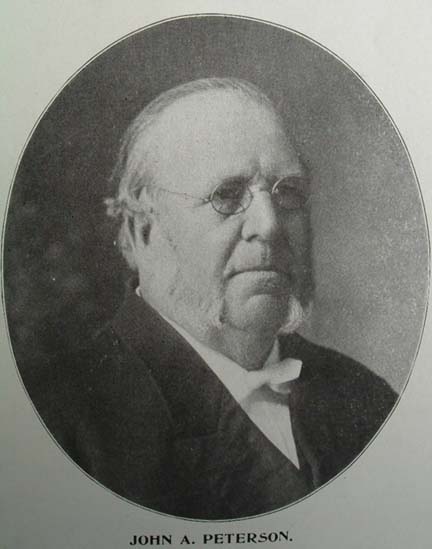 John Peterson, pioneer mission pastor
* * *
The 1912 Nebraska Mission Friends anniversary history credits one O.M. Nyman as being the first witness among the Swedes of Burt County. Coming from the Hjorthed congregation in Kalmar län in 1868 at age 36, he ventured out from his homestead sodhouse to preach in the manner of the Swedish colporteurs to his countrymen. We might forget that this kind of activity was not always met with either welcome or success. He is not listed among the Lutheran charter members, but was the first chairman of the Salem congregation. Those with connections to Wausa may remember Elmer "C.P." and Minnie Peterson. Minnie was the daughter of L.J. and Emma Johnson of the Oakland area. According to the Wausa Centennial book, Emma paid for her passage to America by caring for the children of another immigrant family. As newlyweds, she and L.J. lived in the home of her uncle Newman (Nyman), "who was a self-made preacher and traveled about the country in style atop a buggy. He founded the Salem Covenant Church at Oakland and several others". They raised a large family at Wausa and their daughter Minnie, whom I remember, lived till 1968. It is also reported that Minnie took piano lessons from Pastor F.O. Hultman while he served at Wausa.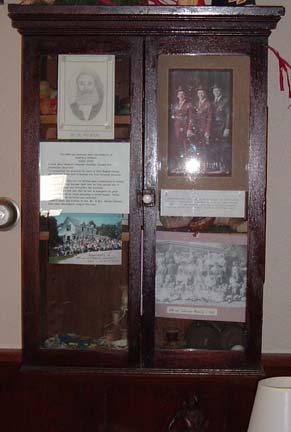 O.M. Nyman's desk preserved at Oakland Heritage Center
In 1875 John Peterson, then in Des Moines, made a preaching visit to Oakland. In 1876 he was joined by Andrew Hallner from Swedeburg and the congregation was underway. Even after his first visit, the historian records the excitement upon his return.. "Peterson is coming!" When he accepted their call to be their first minister, they must have known they had found their man. By 1877 they had graduated from schoolhouse to a church building of their own. And Peterson had found a base which became his family home and farmstead while he actively spread the Mission Friend message throughout the region. Both he and Hallner were renowned preachers.
Fellow Wausa churchmember Paul Landholm was a grandson of Peterson's. According to the Wausa centennial history they knew him as "farbrör (uncle) Peterson" He was a preacher, but also a farmer who spoke the language of the populace in more ways than one. Those who came to visit him might find him attending to his hogs. It is reported that he favored black cigars, which were not necessarily sinful at that time. His breed was not to continue for long, but those who knew him seemed ever to long for his kind of leadership.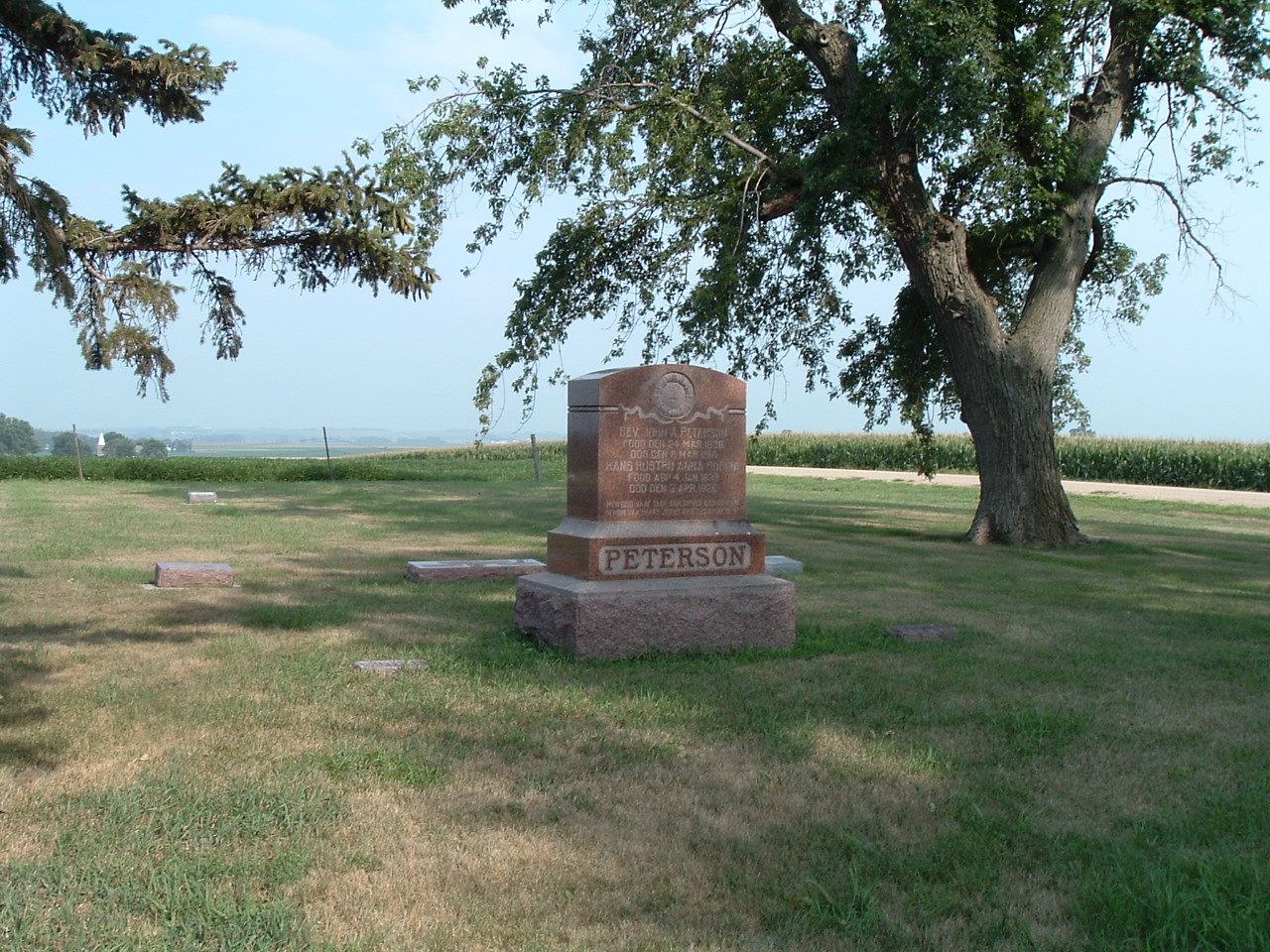 Reverend John A. Peterson, "Peterson i Oakland"
His true monument is the church whose spire appears in the background
Though he traveled far, there were places nearby which also felt his influence. At Swaburg to the south he helped found the congregation of Mission Friends at Argo, and northward it was the one at Lyons as we shall see in turn. But closer to home, the Mission Friends in the eastern part of the settlement were inclined to start a congregation in the growing town of Oakland itself. They arranged in 1885 to meet in the English Lutheran church where Peterson preached for them on Sunday afternoons. In 1887 they called Teodor Norlin as pastor. He returned to Sweden after a short time, and was succeeded by P.J. Falk who served both Oakland and Argo. One of the last pastors to serve in Oakland was C.E. "Ped" Anderson, whose nephew Leon came to see me at Salem. I also saw a letter from Anderson while he was at Oakland responding to an inquiry about pastor Falk in the Covenant archives. Someone was seeking a baptismal record from the Plattesmouth, Nebraska, congregation which Falk also served. No records could be found. Falk was described as a batchelor in poor health who suffered misunderstanding. His name is associated with the Fremont/Essex, Iowa, revivals of 1877.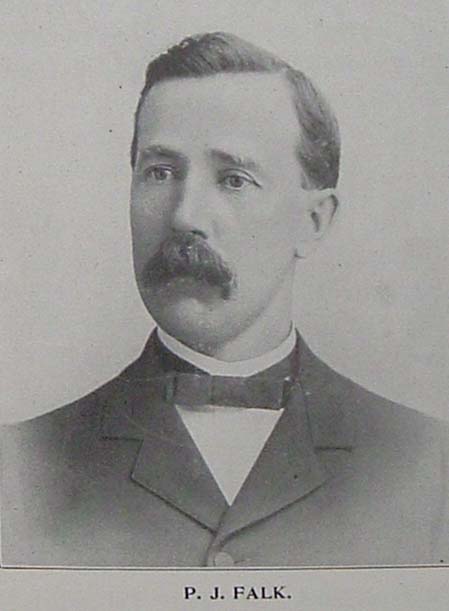 Rev. P.J. Falk
The Oakland congregation occupied its own church in 1885. Like Salem, the congregation had joined the Mission Synod and both became members of the new Mission Covenant formed in that year. The influence of Peterson is surely seen in this, as some congregations were very wary of organizations at this time. He, in spite of his rural character, was not.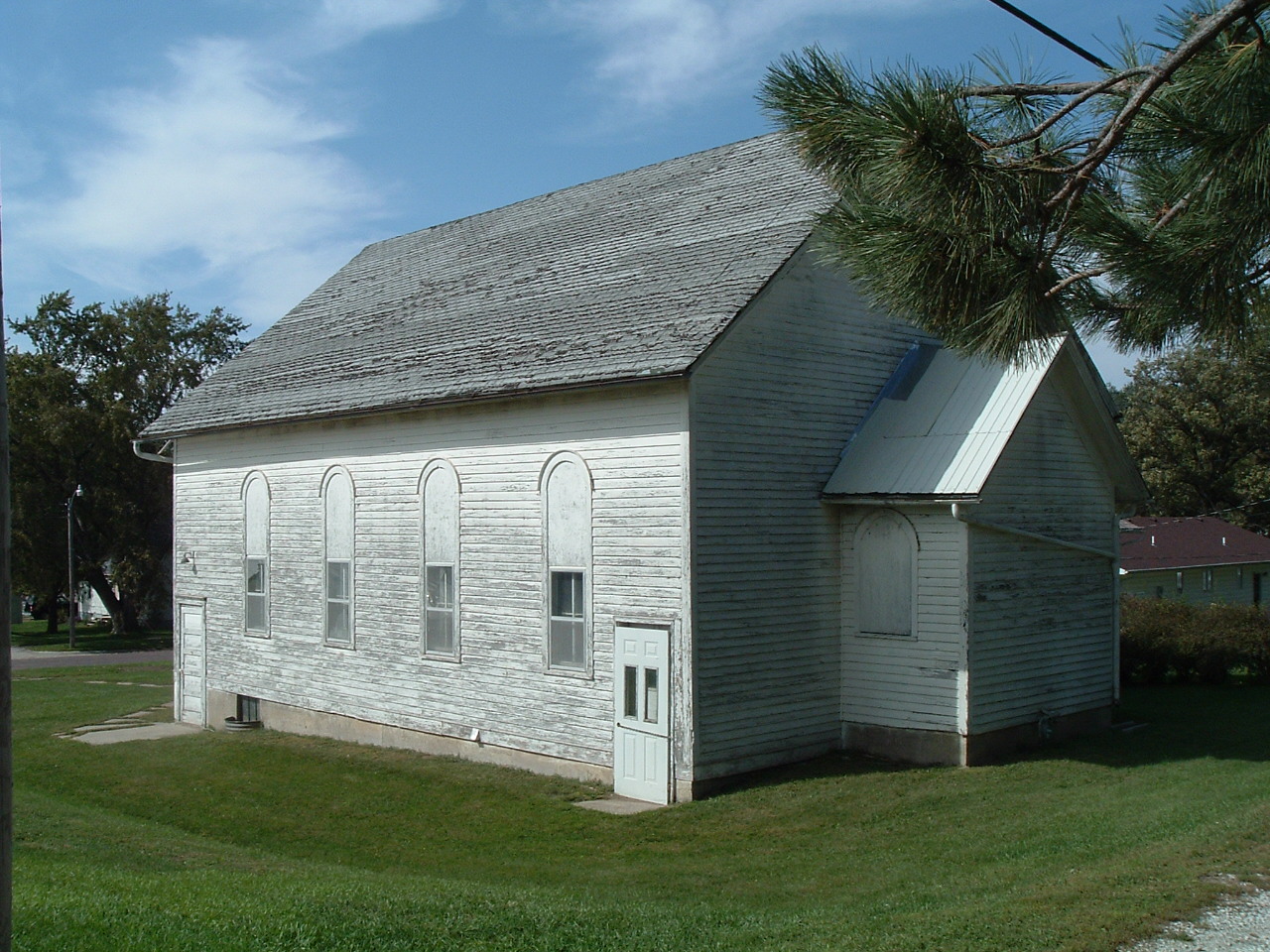 Oakland Mission Covenant: the "nomad" church
With the assistance of Oakland historian Jerry Rennerfeldt we have learned the remarkable story of the Oakland Church shown above. A new English Lutheran Church was dedicated in 1881. This effort evidently went for naught, and the property became the church of the Mission group described above for the reported price of $600. But later, when the Mission (Covenant) built their new church this building passed to the newly-formed Free Mission church. As described in the section on the Free Church, they built a new church on this same site, the old building having been moved to Main Street. There the English Lutherans made a last attempt, but the building then went to the American Legion and was moved one lot north. Amazingly enough, this building survives today! For more on the story of the "mystery church" quest click here. More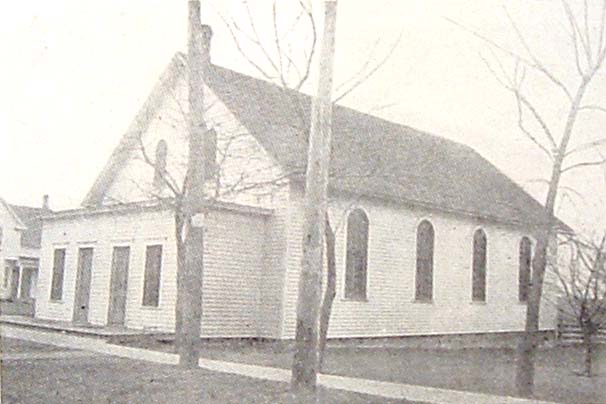 Oakland Mission Covenant: the "nomad" church
The Oakland church became redundant with the mobility of the automobile age but continued till recent years before merging with Salem. It now houses the Swedish Heritage Center.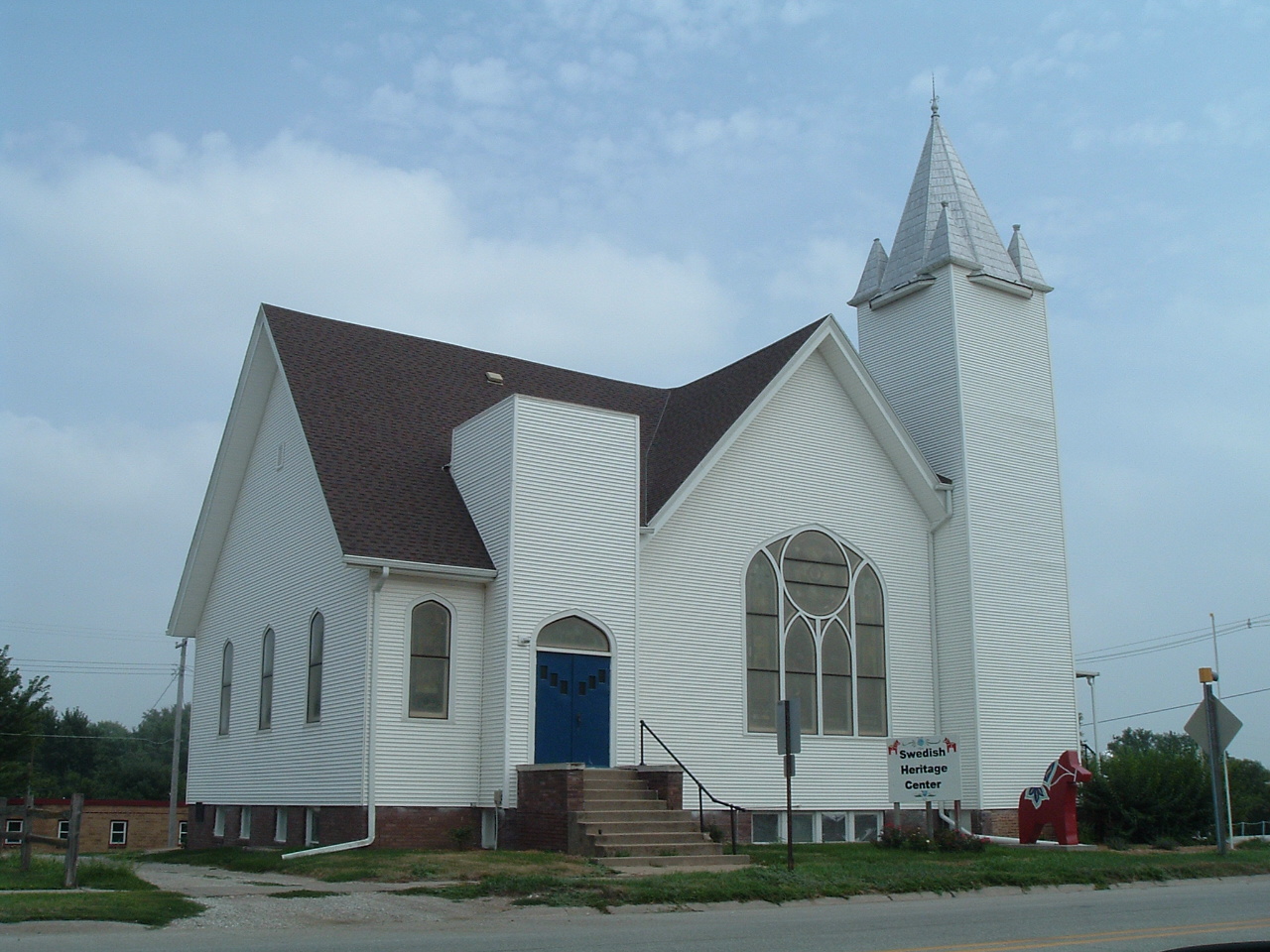 Oakland Covenant church, now Swedish Heritage Center
* * *
The Swedish Methodists of Oakland
Six miles north of Salem, to the northwest of Oakland, is the site of the Swedish Methodist church known as West Side. It is easily confused with another early Swedish Methodist congregation in Nebraska in Platte County known as West Hill. Historians beware. Our visit was just a bit too late to see this old structure, as monument there indicates it was disbanded in 1997. Our historical sources are slim, (this is no longer the case thanks to material from Oakland's Heritage center and its curator) but it may be surmised that Nebraska Swedish Methodist Missionary Peter Lindquist helped organize a group coming from Burlington, Iowa, to the area in the early 1870's.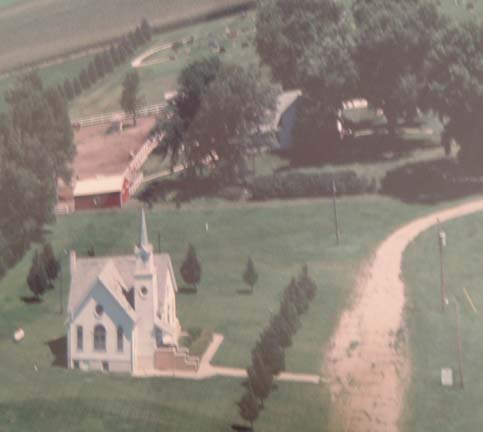 West Side Swedish Methodist northwest of Oakland
We have records of some of the pastors who served at West Side from N.M. Liljegren's "Svenska Metodismen i America". Oscar Swan was one of the New Sweden, Iowa, community who had left the Lutheran fellowship under the influence of Jonas Hedström to become a Methodist. He had served as "colporteur"...we might say "trained lay witness" in that group. He served at Oakland after various pastorates in Iowa and Kansas and becoming superintendent of the Kansas-Nebraska Conference. By 1893 he had become presiding elder of the Iowa district. Olin Swanson apparently served both West Side and West Hill in spite of their great distance from one another. John Simpson served Oakland before being called to Stromsburg. Clearly Oakland West Side was one of the strong Swedish Methodist congregations.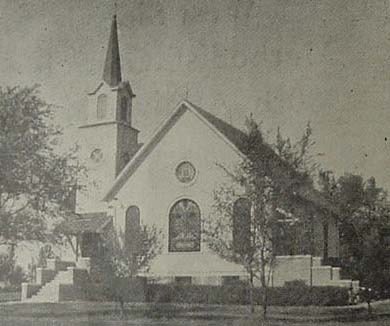 West Side Swedish Methodist