<!PUT PROGRAM HERE>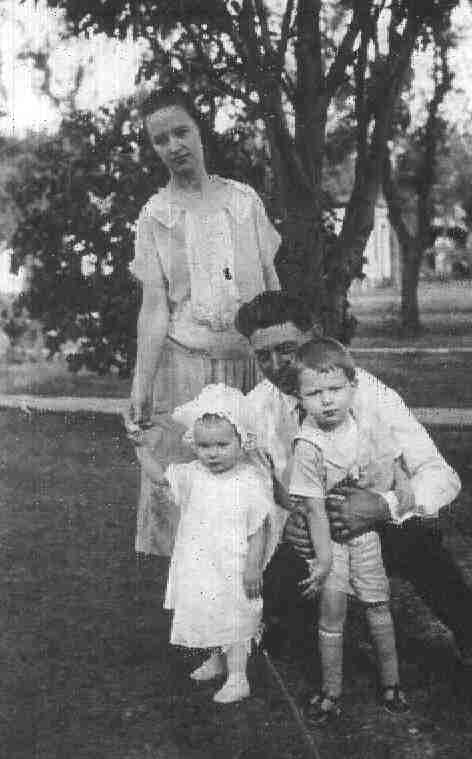 Marie,David,Elaine and Glen

(continued from David Greenwall)

Marie and her twin sister, Martha, were born on 1/16/1900, at Stromsburg, Nebraska. They were two of eleven children born to Charles and Amanda Rodine. Like any large family, the children all had to do their share of the work. Marie attended country school and, in her younger years, the family moved to a farm near Polk where she spent her growing up years. This farm is still occupied by the Rodine family. As a young woman, Marie worked in the dry goods dept., in a store in Polk when prints and calicos were sold for five and seven cents a year. Marie is of all-Swedish heritage as her parents were born in Sweden. As a young man, her father had stood guard at the King's castle in Stockholm. Her mother was a seamstress and dressmaker and Marie inherited that sewing ability.

Children born to David and Marie were one son, Glen, in 1922 and four daughters: Elaine, Eva Mae, Ardythe and Marilyn. Glen was not a healthy child and died when he was thirteen. The family lived on the farm bought originally in 1917, but was lost in the depression. Like other Swedish families, they enjoyed getting together with their relatives and friends and observed holidays, including MidSummers Day. Picnics and outings in places like Young's Park were always enjoyed. The family was active members and workers in the Mission Covenant Church and in the Sunday school. Close and lasting friendships were made with the neighboring farm families.

In 1930, David developed cancer of the throat and, after many months of suffering, died at the age of 39. As was the custom in that day, an all-night wake was held in the home. A friend and neighbor, Edgar Johnson, said he felt honored to sit at David's funeral wake. The funeral service was on a very cold and snowy day in January of 1932. Following his death, Marie and her daughters remained on the farm. David's brothers and hired men continued the farming. The orchard, garden, chicken coop, and a milk cow helped keep the family fed. The girls went to the country school Dist. 110 East, which was close to the farm. The schoolteacher usually boarded at the Greenwall home. Marie worked as a clerk at Anderson's Store in Wausa in the late 1930's. In 1941, Marie married George E. Anderson, who owned this store with his son Delwyn. The family then moved into Wausa to the house which George owned.

George died in 1943 at their home. In 1947, Marie sold the house to Howard Eifert, and moved to Medford, OR, where her three older daughters were living. Her youngest daughter, Marilyn, remained in Wausa to finish her high school. In the 1950's, Marie returned to Nebraska and lived for a time in Lincoln and worked as a Nurse's Aide at the State Mental Hospital, then she returned to Medford and worked at the Rogue Valley Memorial Hospital. Marie worked on the Nursery Floor for several years, until her retirement. It was her privilege to be present at the delivery of her first great-grandchild in 1965. In 1988, she attended the wedding of this same great-grandchild. In the spring of 1989, she became a great-great-grandmother.