<!PUT PROGRAM HERE>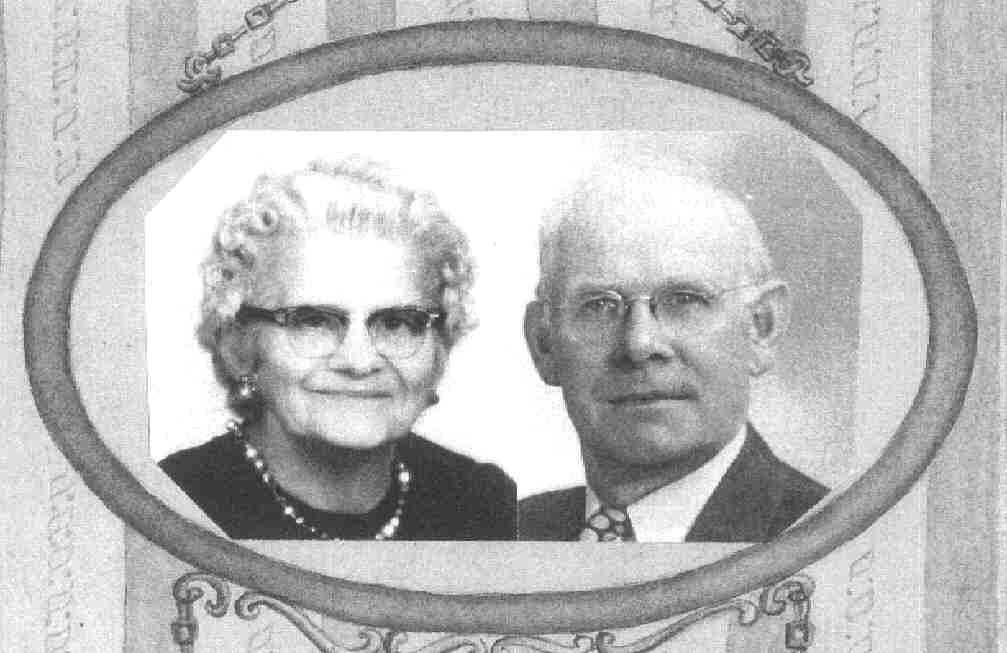 Esther and Ed Greenwall

Evald, son of Anders and Charlotta Greenwall, was born at Folkarna, Dalarna, Sweden on 8/4/1889 and came to this country with his parents on 5/12/1903. Since he liked to draw, he brought along from Sweden his sketchbook, along with his favorite instrument, his violin. Evald (Ed) married Esther Johnson Gustafson on 12/22/1925. Esther had been married before to Aaron Gustafson. They farmed northeast of Wausa.

One winter morning while Aaron was building a fire in the stove, it exploded and he was severely burned. Esther, six months pregnant, ran through the snow to the car in the garage, subsequently getting double pneumonia. Aaron lived two painful weeks and passed away at the age of 27 on 2/4/1919. On 5/17/1919, Arlyn Aaron was born to Esther.

Rev. O.B. Olson married Ed and Esther at the Mission parsonage. Arlyn, who was six years old, accompanied them on their honeymoon, a campling trip to Minnesota. After marriage, the couple lived on a farm southwest of Wausa, and Ed worked with his brothers, David and John. Three children, Elton, Lois and Elys, were born to this union.

In spite of being busy with three babies, every Monday morning Esther would fill the copper boiler with water from the well and heat it on the blue cook stove. When hot, she would add some chipped melted lye soap to the water and carry it out to the wash house where the gas-motored Maytag was started up. Many winter days the long underwear hung stiff on the clothesline. Ed and Esther lost the farm in the crash of 1929, but were always able to sell eggs and cream to buy staples. On many winter days Ed would hitch up Mike and Beulah to the hay filled bobsled and drive the three youngsters, covered by blanket, to school. Sometimes they would wade through water, over their four-buckle overshoes, on their way home from school, often stopping to catch tadpoles in the creek.

Every summer the family would harvest hay with the Edgar Johnsons. When the task was completed, it always meant a shared supper followed by playing Chinese Checkers and Caroms. Threshing days were exciting, with all the meal preparations and Esther would go to Stropes bakery early to get rolls for lunch. Tragedy struck the family in 1942 when Arlyn was killed in a B-25 Bomber crash. He enlisted in the Air Corps in 1941.

In 1947, the Greenwalls had a farm sale and moved to Wausa, buying a house across from the Methodist parsonage. Ed sold insurance until he became ill, passing away 1/29/1956. Esther then had a household sale and moved into a mobile home south of the post office. On February 19,1967, she received the shocking news that her son, Elton, had been killed in an automobile accident, leaving his wife and two small daughters. Following several gall bladder attacks, Esther had surgery, complications followed and she died 4/16/1971. In spite of her many tragedies in her life, she never complained and sustained a deep faith in God. She was buried from the Covenant Church and interred at Woodlawn Cemetary.