<!PUT PROGRAM HERE>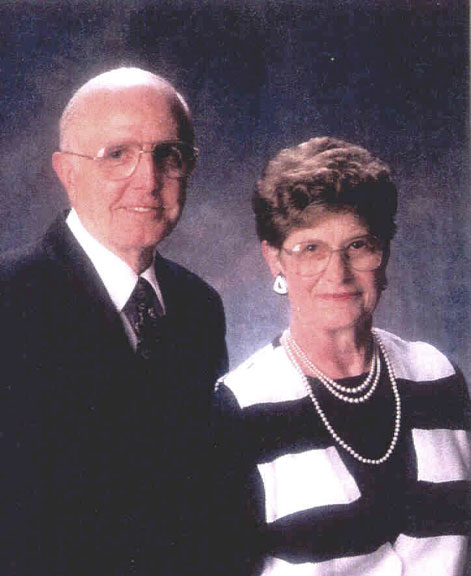 Dr. Donald and Lois (Greenwall) Larson
Lois Greenwall was born April 16, 1928, to Ed and Esther Greenwall. She married Donald Larson on 7/30/1954 at the Covenant Church, Pastor Edwin Mattson officiating. Their first home was an acreage on the west edge of Wausa, owned by J. Arnold Anderson, for whom Don worked part-time while farming with his father. Prior to their marriage, they had been residents of the Wausa community and both graduated from WHS with the class of 1946. Don had also worked at the Mobil Gas Station and the Ford Garage. Lois taught the Washington Rural School and in the Creighton Public School after attending Wayne State College. She also worked as bookkeeper at the Lindgren Hardware Store.
In 1956, they moved to Lincoln where Don continued the education he had started at Wayne State. Lois taught in the Lincoln School System. After graduation from the University of Nebraska Medical School in Omaha in 1962, during which time Lois taught in Omaha, they moved back to Lincoln where Don spent a year of internship at Bryan Hospital and a year of internal medicine training. In 1964, they moved to Aurora, NE, where they started the Aurora Medical Clinic. Don had triple by-pass surgery on 12/31/1979. He recieved the honor of being selected the Nebraska Family Physician of the year in 1983. Don became Assistant Director and later Director of the Lincoln Family Practice Residency Program in March 1985, so a move was made to Lincoln.
During their third year of Medical School, they adopted David Kent who was born 1/1/1961. He graduated from the University of Nebraska Medical School in 1987 and is a Family Practice Resident at Iowa Lutheran Hospital in Des Moines, IA. There he met Ro Anne Lomansky, a nurse, who became his wife on 7/30/1988, his parents' 34th anniversary. David and Ro Anne have five children: Carissa Jean Sojka, Ryan David, Kyle James, Bethany Jean and Dorian Jean (adopted from China).
During Don's Internship, Rebecca Lynn was adopted, born 2/23/1963. She married Tony Schroeder on 11/3/1984 and now lives in Lexington, NE, where her husband farms with his father. Tony and Rebecca have three children: Danielle, Lindsey, Jordan Alexis and Kellen Michael.