<!PUT PROGRAM HERE>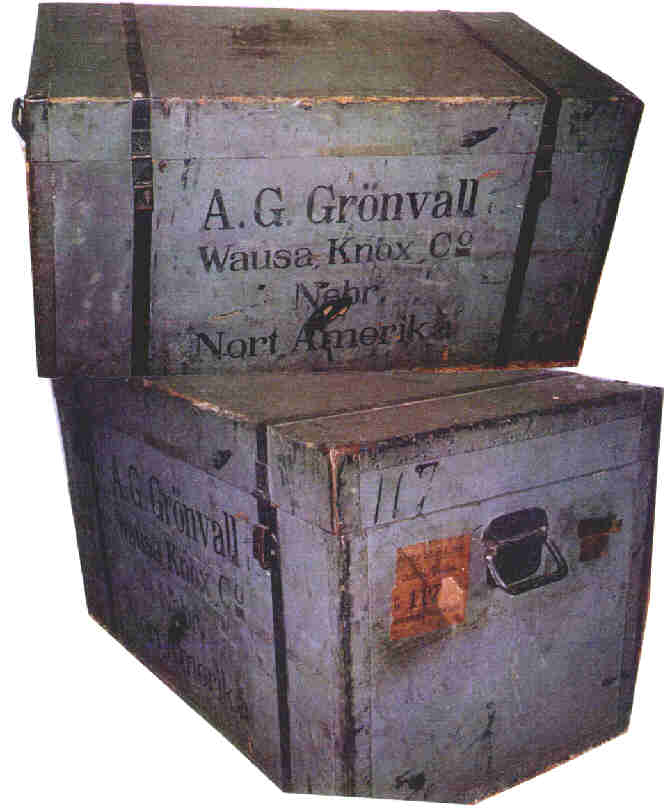 Artifacts of Immigration

This family trunk is addressed to Grandpa Greenwall, A.G. (Anders Gustaf) Gronvall. It was in 1903 that Anders and Charlotta and two young sons, Evald, age 13, and David, not yet 11 years old, probably put all their belongings in this trunk and traveled to their new home in America. The inspection tag and travel information is pasted on the one end of the trunk. These tags state that the family traveled by the White Star Line, the trunk was checked baggage G117, and their travel route was from Jularbo with the number 6257 to Gothenburg, Sweden, on to New York via Liverpool. The trunk was 3rd class baggage, inspecting by R.M.S. on the Oceanic in the Port of Liverpool.

The trunk, which is now at Marilyn Greenwall Hult's home, is a well-built trunk although it looks a little travel worn and old. A Swedish craftsman must have built it as the interior is especially well built. There is a shallow shelf with dovetailed corners that can be locked in place and it is almost like a secret compartment. The family's special little things must have been packed in there. Other relatives and family probably used this trunk on trips to and from Sweden. For many years it was stored in the Albert and Archie Dahl homes as many Greenwall family members lived with the Dahls when they first arrived in America. Grandma Charlotta's brother was Erik Dahl (Albert's father). So it is fitting that this trunk be shown in the Dahl-Greenwall Heritage Book.