<!PUT PROGRAM HERE>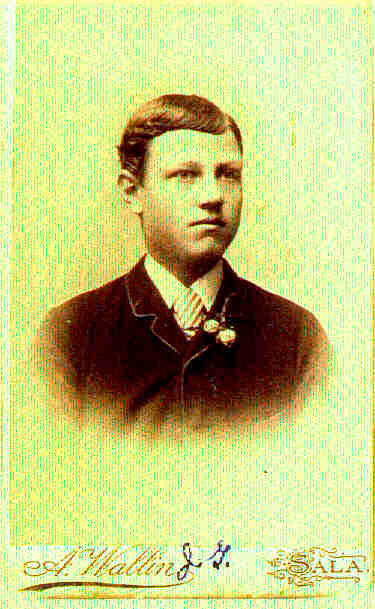 Johan (John) Frederick Greenwall, the eldest son of the seven children of Anders and Charlotta , was born in Folkjarna, Dalarna, Sweden, on October 29, 1874. Educated in Sweden, he emigrated to America in 1893, settling first at Stanton, Nebraska. At this time he lived with his uncle Erik Dahl in the Bega community - records were found in the school of attendance there. John was 19 at this time and attended school perhaps to learn English. It was there that he made many acquaintances including life-long friend Andrew Olson of Orchard. He subsequently moved to Stromsburg, Nebraska.

John married (Karolina) Elizabeth Carlson on November 20, 1901 in the home of her sister and brother-in-law Erik Forslund. Elizabeth was born 11/07/1872 at Stora Tuna Kopparsberg, Sweden and came to America in 1897. Elisabeth died 3/13/1915. After the passing of Elizabeth John married Edna Olive Rodine on March 27, 1918 at Polk, Nebraska.

I (Bob) received many momentoes of the Greenwalls while living in Stromsburg including one of the original wedding invitations. Also still standing were the Forslund house, the Durant house (note: neither remains in 2012) and elevator which John managed and where they lived through the time of Elizabeth's death. Local people recalled that Anna Dahl came to Durant at that time to help John care for his two young boys.

Edna's childhood home near Polk also remains, still in the Rodine family. After Mildred's birth, they moved to Wausa in late 1919 or early 1920. John had four children: Herbert and Herman with his first wife Elizabeth and Mildred and Clarence with his second wife Edna.