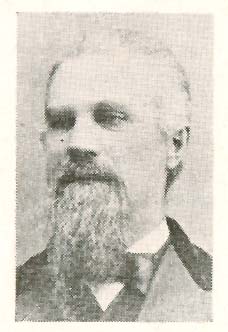 Lawrence Leonard Frisk
(from Ahlstrom's Baptist history)

As a pioneer preacher Rev. Frisk must be accorded a more extended notice than the bare fact mentioned that he had been pastor of this pioneer church at three different periods. Frisk's father was the Dean of the Established Church in the city of Gefle. He was graduated from the City Schools; entered the University of Uppsala to study for the ministry. An elder brother had taken that course. Dean Frisk wanted his sons to follow in his footsteps. Lawrence was attracted to the Pietists and began to associate with them and at the age of eighteen was converted. After the Court trial and banishment of the first Baptist preacher, F. 0. Nilsson, which created a great stir in the old University colony his views on the doctrine of infant baptism were disturbed. There was no Baptist minister in the kingdom until in the spring of 1854 when that zealous layman, P. F. Heidenberg had returned to Stockholm from Germany whither he had journeyed and had been baptized and ordained in the Baptist Church at Hamburg. Heidenberg baptized the young student.

Rev. Frisk's son, Alden L. Frisk makes this statement to the writer about his father: "He became a Baptist for which he was disowned by his parents, called an infidel, jeered at on the streets and practically banished from Sweden." He was never allowed to enter the Dean's mansion as a Baptist. Then he emigrated to America, landing in New York where he stayed for some time. Here, his son says, "He was ordained to the Baptist ministry." Later in the summer he went to Chicago.

In order to form some idea about his reception on arrival we must note the following facts about the Swedish Baptists here at the time. In 1843 sixty-two members were dismissed from the First Am. Bapt. Church to organize the Tabernacle Church. Among these were Boletta Hanson, Ann Dorothy Hanson and Elizabeth Johnson, real Scandinavian names, but the records are silent as to their nationality. In 1853, however, twenty members left for the purpose of organizing the First Swedish Baptist Church, ten men and their wives. This was the group for which the young Uppsala student became pastor. Among them was the merchant tailor from Stockholm, I. J. Colling, Rolling in Swedish. In a revival his daughter, Miss Maria Louisa was converted and baptized by pastor Frisk. On Nov. 20, 1854 she became the bride of pastor L. L. Frisk, Dr. J. C. Burroughs officiated. At this time the church had about 30 members. Frisk remained as pastor up to 1857. Rev. Frisk labored like the most of the earliest pioneer preachers: he was an itinerant pastor. Besides his field in Chicago he preached in Galesburg, Moline and Rock Island, Ill.; Stromsburg and Holdrege, Neb.; several places in Kansas; in Ishpeming, Mich., he served as pastor both for the Swedish and the American Baptist Churches there.

In Moline and in New Sweden he had, as far as we know, the greatest revivals. In the latter place he baptized about thirty converts at one time. These were of various nationalities. As a preacher his gifts were more of the evangelistic order, than the pastor's. He was a linguist of note. Besides his studies in Latin, Greek and Hebrew he had also studied German, French and English. In Burlington and New Sweden there are still a few persons living who heard him preach in German and French. Among Norwegians and Danes he spoke their tongue as one of their own.

Lawrence Leonard Frisk was born in Gefle, Sweden, Sept. 11, 1823, died in Rock Island, Ill., Feb. 19, 1906. Mrs Maria Louisa Frisk was born in Stockholm, Sweden, Aug. 5, 1835, died in Rock Island, Ill., Jan. 3, 1921. Both are buried in the Rock Island Cemetery.

In the Swede Bend section of this website the following note in a minor key was recorded:

Of Frisk, the even-handed Baptist historian A. Olson has this to say:
"...Wiberg, Palmquist, and Nilsson all believed Chicago to be a strategic center for Swedish Baptist work. But they also seemed to fear that Frisk would not measure up to the great demands and opportunities of the field, for he was too easy-going, shiftless, and afraid of sacrifices and hard work." -A. Olson
Frisk came from the family of the Dean of Gävle cathedral in Sweden. Why he was so ill thought of by his peers may have had to do with his being "upper class." He is later found as pastor of the Stromsburg Mission church. His later life was among the Swedish Baptists at Moline. For now, he is in the very "demanding" field of Swede Bend, where it is observed that, since he was fluent in English, he was able to extend his ministry to other local groups. (see below) This fascinating character deserves a biography of his own; we have encountered him not only in Chicago, but New Sweden, Swede Bend and Stromsburg. Hopefully his later years in Moline were good ones.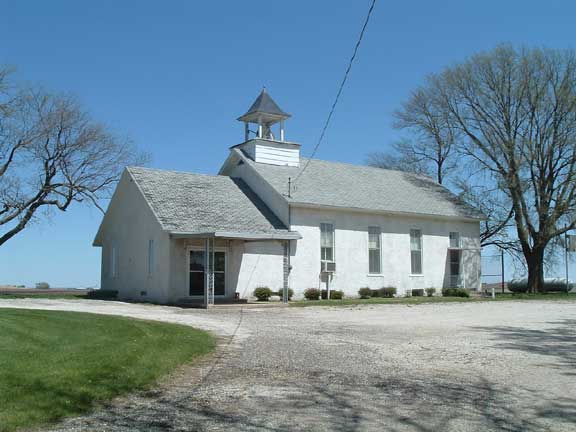 This is the Ridgeport church that Frisk served while at Swede Bend
footnote: in 2010 we visited the Boone County Iowa museum where a centennial history of the Ridgeport, Iowa, Baptist church is preserved. (Ridgeport was the home of C.A. Björk, it is just south of Swede Bend) The picture was taken in spite of its not being a Swedish church, but now warrants inclusion, for listed as one of its pastors was L.L. Frisk! <!PUT PROGRAM HERE>