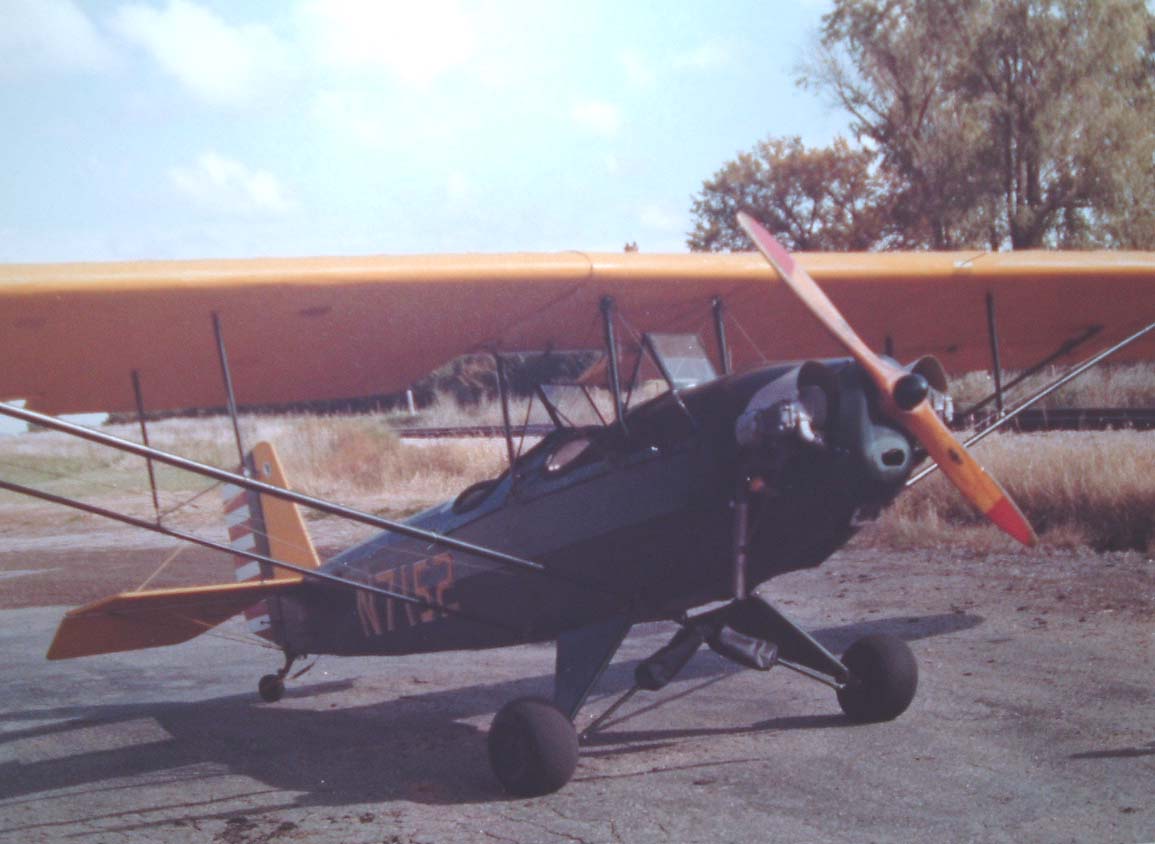 My favorite view of N7152 at Stromsburg

<!PUT PROGRAM HERE>

An early news report of the DC-10 crash at Ohare made mention of wreckage falling on the hangar of a small deactivated airport near the north boundary of the field. The reference to these hangars brought a flashback of recognition: it was from the dark and musty confines of those very hangars that I had retrieved several years before both wings and miscellaneous other pieces which now fly as part of my airplane!

As a resident of nearby Des Plaines I had often passed by the sign on Touhy Avenue advertising "Ercoupe Parts" and backed up with a cannibalized fuselage of the same type. Both stood in front of the little office added to the side of hangar which typify small airport "operations offices." The remainder of the area was given over to a trailer court and a truck yard.

I had thought occasionally of the trove of aircraft goodies accumulated in those deteriorating buildings since moving away from the area later, and wondered if some enterprising marketing type might not do quite well by buy the lot, catalog the parts and sell them to restorers and rebuilders. Whether the contents of those buildings remained at the time of the DC-10 crash, I do not know. At the time I visited the old Ravenswood Airport (its original name before closing in 1957) proprietors Mr. and Mrs. Abe Marmel were at the site occasionally and would arrange by telephone to meet customers. "I've sold parts to quite a few of the boys," Abe confided, referring to homebuilders.

I was later to find myself in a class with a young lady of the same last name as Abe's and she turned out to be either a niece or granddaughter, I can't remember which. This seemed quite a coincidence in a city of six million people!

My reason for calling Abe was to buy a pair of J-3 Cub wings. Now in 1970, which doesn't seem all that long ago, it was not unreasonable to go looking for J-3 wings to put on your homebuilt airplane, whether it was the amphibious Kingfisher, Breezy, or GN-1 Aircamper like mine happened to be. It was not to be many years till the "collectibility" of the Cub had put parts prices up out of competition with handbuilding the same items.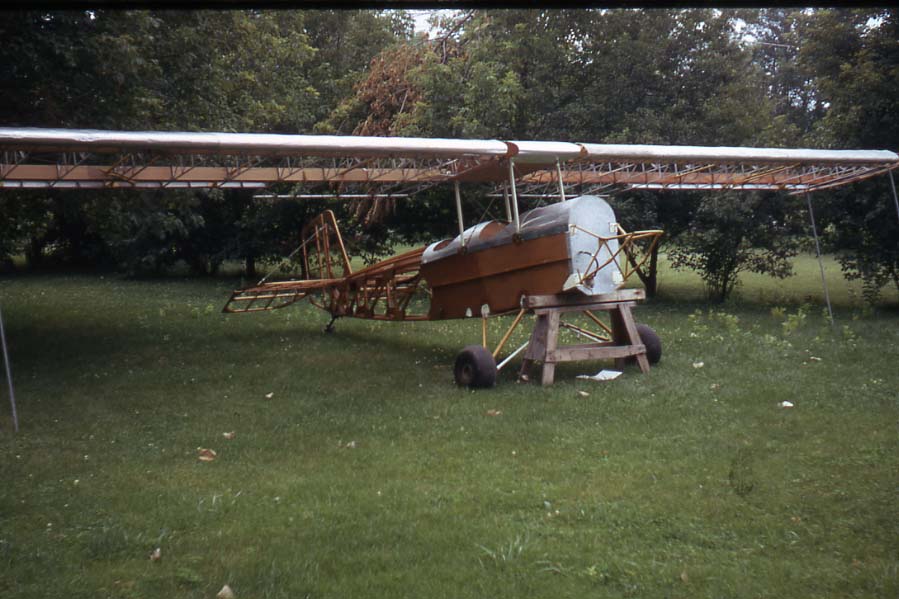 Those J-3 wings - in place
* * *
As a note here, I vividly remember a morning's airport bumming in Columbus, Nebraska, when I came around the corner of a hangar to find an airplane mechanic burning a pair of wood spar J-3 wings. Whether they had been damaged I couldn't bear to ask, but the hardware had not even been salvaged. The same gentleman wouldn't sell me the front lift struts from the same wings -- it seems they made inside sleeves of perfect size and contour for splicing Callair lift struts!
Abe consulted with his wife at their end of the phone and allowed they may have some J-3 parts, if I would meet them at such-and-such a time at the hangars. So it was I found myself watch as the old-timer grunted and pried the ever-balky hangar doors aside to allow our entry.
I wonder how many pilots have stayed home at the thought of again wrestling with those unwieldy monstrosities called hangar doors! In order to be trouble-free, one must buy a set which costs nearly as much as the rest of the building and requires nearly as much maintenance as the airplane inside. I have left mine partially adjar, noticing no wind, while going inside my hangar to get the one tool needed for the job at home and invariably just as I bend over the workbench hear the slowly accelerating scraping of that wonderful airfoil translating the invisible power of the air into a soul-shattering, hangar-jarring smash as it swings full arc. This is the characteristic behavior of the hangar door exhibiting its bitter inferiority feelings against the airplane it must protect. Hangar doors one day deserve a story all their own.
The senses can only absorb a conscious fraction of all they perceive, but in those hangars I wished for a computer brain and photographic memory. Most simply could not be meaningfully registered as I followed Abe on his hunt for the J-3 panels his proprietor's memory believed to exist somewhere in the maze. My knowledge of airframe parts was far poorer then than now, and fantasy may inflate the memory but Abe shuffled stacked wing panels as a clothier would his stock of overcoats at the rack! "You don't want that, its a PA-12", I remember him advising once. We did find one, uncovered and soiled by the elements. Abe was not satisfied with this, wanting to find one which was covered and thereby better preserved. Remember, one of the main concerns was to find a "left" and a "right"!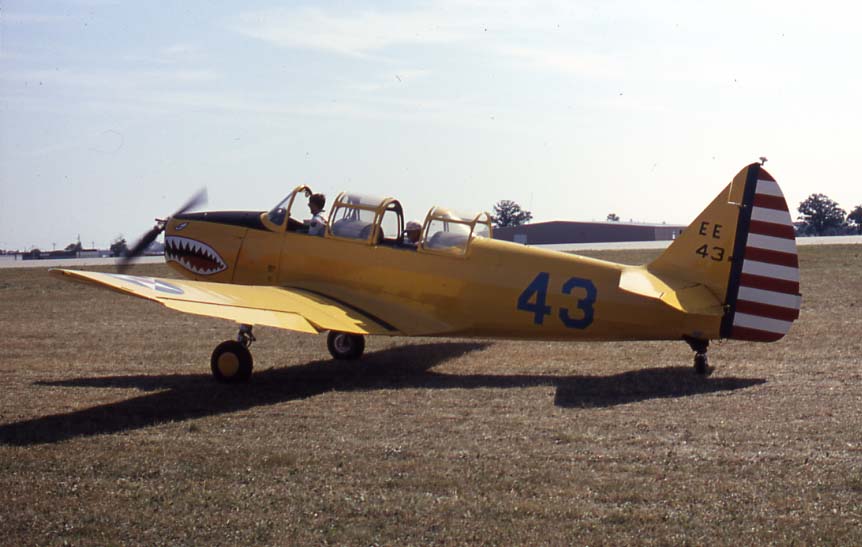 Ed Escallon's PT-26, I had a ride in it once at Oshkosh

* * *

My eyes wandered to the rafters above where I identified the canopy assembly of the Candian version of the Fairchild trainer, our PT-26! A Continental four stood on a test stand, J-3 engine mounts for Lycoming and Franklin powerplants stood scattered on the hangar floor along with a radial engine minus one cylinder. I later picked up the Franklin mount as well as a handful of grimy micarta pulleys.

At Abe's suggestion we proceded to the next hangar, also a large multi-plane structure with equally balky doors and equally mezmerizing contents. Here we did, indeed, find a covered Cub panel which pleased the old proprietor of Ravenswood. It was this 1946 wing which now supports the left half of my airplane in the air, and does so very well with its timeless USA-35B airfoil section. I derived this information from the crayoned date on the front wood spar. The spars were bright and sound beneath the doped cotton covering, and all metal both steel and aluminum was in equally good condition. There was no worthy mate for this find, although we shuffled wings as a Vegas dealer fans through cards.

A Stinson 108 fuselage sat prominently among the profusion and my mind indexed the gascolator visible on the firewall. With a determination of price, it joined the "bought" pile along with the primer from the same Stinson.

It was back to hangar one for another look at the uncovered right J-3 wing to see if some further virtue could be attributed to it -- such as a bargain price! There was a grievous splice near the center of the front spar, but masterfully done. Abe enlightened me to the fact that it was not unusual for wartime Pipers to bear these marks of strategic material-priority problems right from the factory. The larger spruce pieces went, presumeably, to the military manufacturers of combat aircraft. This was plausible both from the appearance of the splice, plus from the fact that the aluminum ribs had been adjusted for size in the thicker reinforced sections of the spar at the time of assembly -- they were not field modified. So, the 1939 right wing got the nod and we were off to find streamlined lift struts.

Actually, it was on my next visit that the lift strut purchase took place, there being little room left on or within my station wagon this trip. I had nothing but good thoughts about a second visit anyway, unless it be the tantilizing prospects of spending the tuition, mortgage payment and grocery money at Ravenswood Airport! One must remember that although in 1970 runaway inflation had not yet come to plague us, most of us are conservative in what we spend on our hobbies. I had just purchased two J-3 wings and ailerons with an airspeed indicator thrown in to sweeten the deal, and had spent the grand sum of $200! It was time to retreat and count our losses. To those readers who do not already know it, those wings have already reached the value of my entire airframe worth and are increasing rapidly.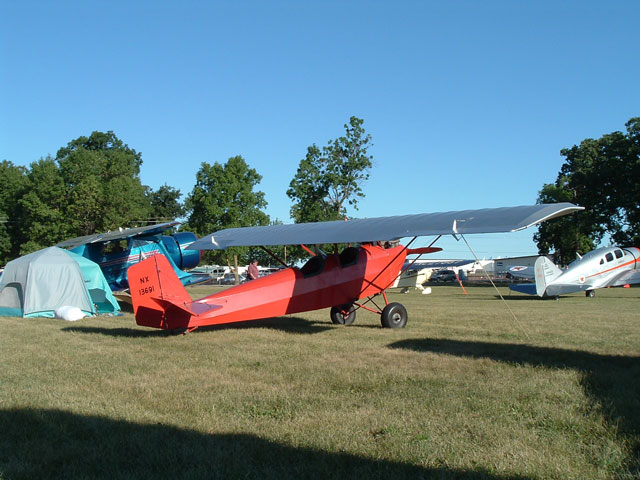 One of the originals: the "Allen Rudolph" Pietenpol at Blakesburg, 2005
* * *
The wing buying venture was not really the beginning of N7152, my homebuilt, amateur built, or custom-built airplane according to your preference. That episode happened to relate to a bit of recent history, the Ohare DC-10 crash, and building airplanes sometimes involves quite a bit of history.
I had learned to flly in conservative fashion, from soft sod runways at Princeton, Illinois, in the wonderful, trustworthy Aeronca 7AC Champs of May's Flying Service. There were no hopes of actually owning an airplane then, just the opportunity of a year's time away from Chicago, and the $7 an hour Aeroncas making the life-long dream of flying a present possibility not to be missed.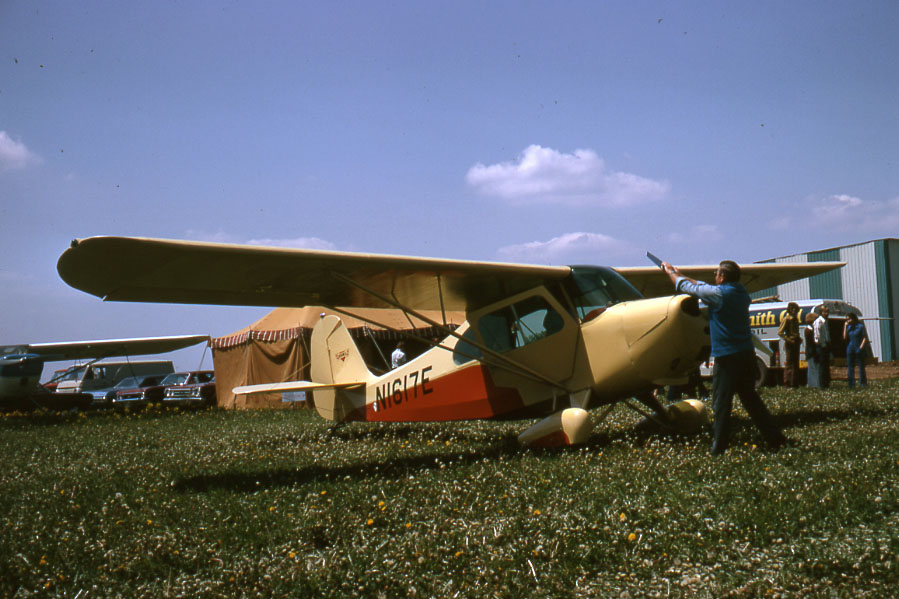 An Illinois Champ - gateway to the skies

* * *

Then, in May, 1968, the Princeton drug store magazine stand carried on the cover of Popular Mechanics a little white airplane with the lead-in, "Build your own VW-powered plane for $600 - page 20". I still have that issue featuring Cal Parker's "Jeannie's Teenie", and if reading wore out newsprint, the pages 120 and following would have been blank by the end of the summer of 1968! The Teenie story is still there, however, along with a yellowed drawing scaled up from the three-view in Popular Mechanics, sporting Maltese crosses and the legend "der Volksvogel". The same kind of inspiration was physically evident a year or two later in a canopied Teenie called "Mini-messaschit". Remember that one, John Monnet?

Around the Great Lakes, thoughts of building airplanes leads sooner or later to the E.A.A., and it was off to Headquarters for a subscription to their unparalleled textus of airplane builders, "Sport Aviation Magazine". Winter night dreams of Teenie had turned to spring when the April, 1969, issue of the beloved monthly introduced me to the personage who had put airplane ownership within reach of two generations of midwesterners before any of them had heard of Volkswagens...Mr. B.H. Pietenpol of Spring Valley, Minnesota. I look on that issue, before me now, as a mother must look on the moment of conception. Later, when the project is "in the hangar" so to speak, one looks back on the moment when the seed was unknowingly planted. Fathers, warn your sons to beware of airplane magazines!

Mr. Bob Whittier, one of the inspired and enthusaistic prophets and priests of the pages of Sport Aviation, wrote in that issue of an odyssey back in time to the spaces of Minnesota, to one of those small communities in which time seems to stand still. There, in Cherry Grove, he visited the designer and builder who gave us -- who gave me -- the shape of the airplane known by his own name: Pietenpol.

Some men are born with names that seem befitting of aeronautica: a "Falconer", one of several "Taylors", even a "Smith". But quite a number of airplanes are saddled with such unstreamlined monikers as "Pazmany", Cvjetkovic", or..."Pietenpol". Builders of these designs grow a little weary of the "a... what?" rejoinder by the idle curious who have just asked you the name of the airplane you are building.

It is reported that the "Air Camper" name was introduced by Modern Mechanics in their publication of Pietenpol plans. Whether the designer approved this name I am unaware, it may be his reaction paralleled Reginald Mitchell's to the nameing of his most famous design: "just like them to pick a bloody silly name like that" (Spitfire). Fortunately, names have not the least affect on the performance of any design. I have always favored the "Sky Scout" name, and perhaps in recent years the Air Camper would have been called the "Sky Scout Too". Airport camping is not unheard of even today, and I might like to try just that some balmy summer month. More likely though, it would be the pilot of a 150 mph plus airplane who upon passing a Pietenpol in flight would accuse me of camping up there under the shade of that parasol wing!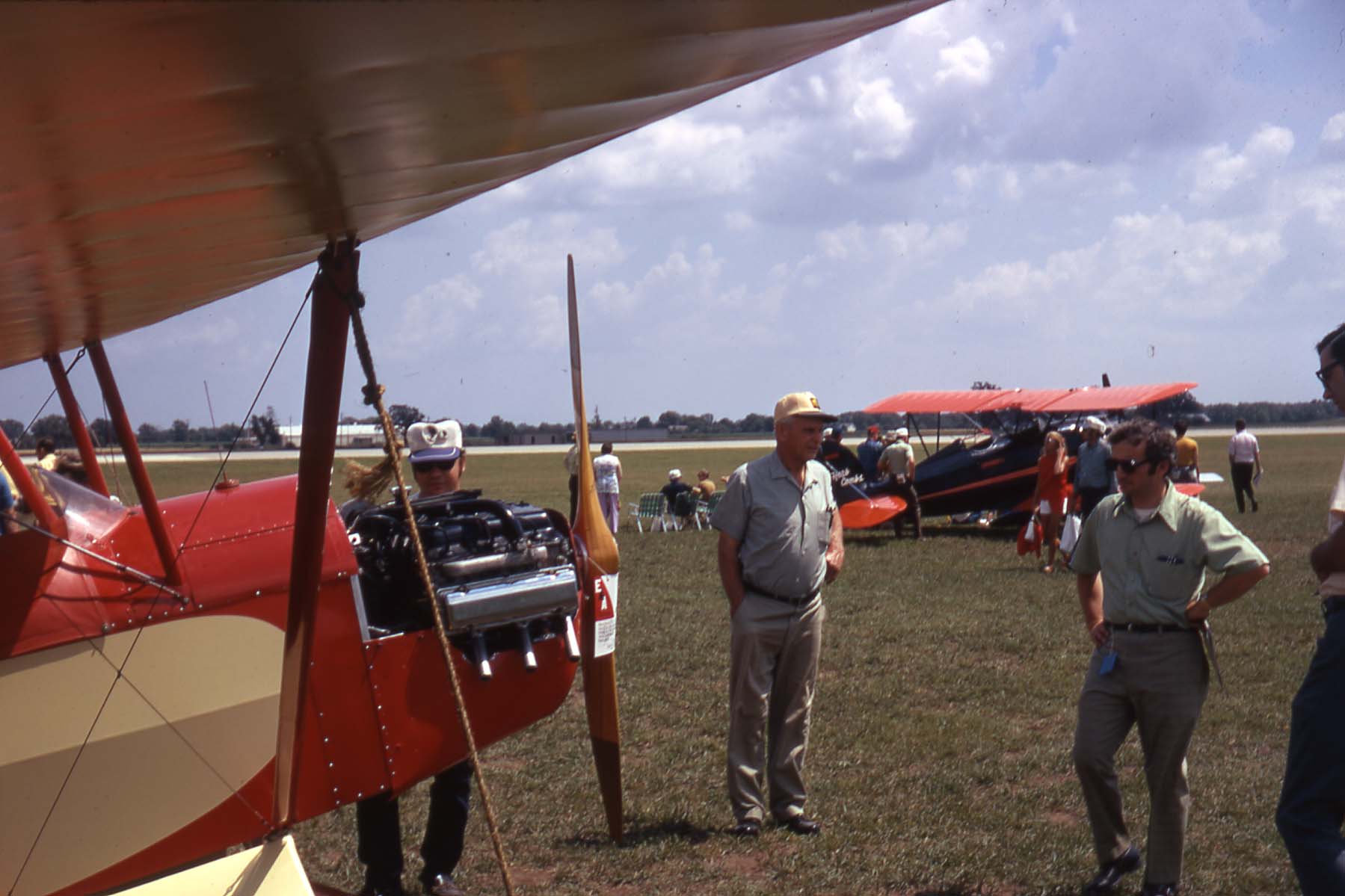 The old master himself: B.H. Pietenpol at Oshkosh

* * *

Several parts of Mr. Whittier's article proved overwhelmingly captivating: the venerable history of the design and designer, the idyllic surroundings of its origins, like my own, the economy of the design and a much-read caption of one illustration..."it is still about the ultimate in simplicity and economy for the inexperienced homebuilder". If not sold, I was very effectively "pre-sold" for an ad in the small print shortly thereafter. "For Sale", Pietenpol project - $250.

Giff Gillingham, member of Chapter 89 and resident of Buffalo Grove, Illinois, near Chicago, was the builder of a Bowers Fly Baby with Ryan STA-style landing gear. Like all airplane builders, he finished that project with more parts than the airplane would hold, hence thoughts of airplane #2. Giff even made it into print in a column Tracy Pilurs wrote about the "aviation nuts" at her home airport. "I had a bunch of stuff left over. A gas tank, a cowling, some wood," he said. "Figured there's no sense in that stuff just laying around. I might as well whip it up into something." (Private Pilot, June, 1971). An even better idea must have come along, however, since the March, 1970, Sport Aviation carried the ad reading; "GN-1 Aircamper project on gear, with or without Cont A-75, 50 hrs SMOH". Just to illustrate the mistakes we all make, I bought the package "without". Ten years later a $250 A-75 looks mighty good!

One of the most attractive features of this Pietenpol package was the fact that all metal fittings had been cut, drilled and welded. Welding was one thing I had no experience with or equipment for. Also nice to know was the security of having an experienced builder do these basic structural fabrications -- presumeably he had learned much on the Fly Baby and applied the skills on the second project. This was to prove abundantly true, as assemblies went together through the years, even to the emergence of the center of gravity in the proper place.

The old faithful station wagon came into service to haul the find to its new garage-home (call it "Skunk Works I). Since it was clean-out time at the Gillinghams, I received countless pieces of aircraft or marine-grade wood, metal, and partially completed goodies. There was a collection of J-3 wing hardware and spars which became surplus when I later bought complete J-3 wings, but since the plane has been completed I have resurrected these pieces to construct GN-1 wing panels either for sale or installation on N7152 for a more "stock" appearance.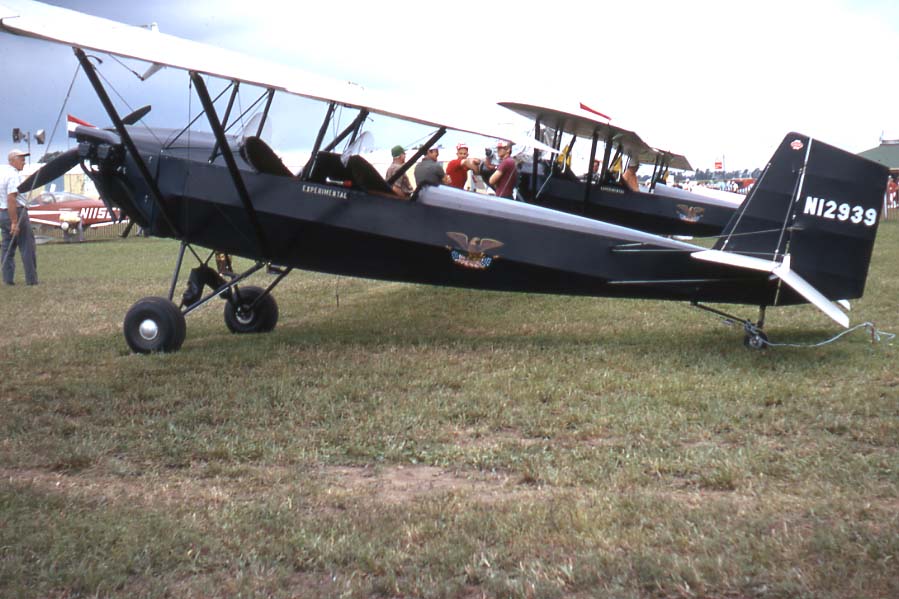 Early inspirations: Ed Sampson Pietenpols

* * *

"Skunk Works I" was neighboring the campus where I attended college, and so its owner, "Rose", had seen some unusual conveyances among her renters. With the matchless curiousity and suspicion of an elderly Jewish widow, she surveyed the new contents of the garage. "Is it a canoe?" she asked, eyebrows raised. "Yes" I replied, handing her the monthly check for $15.

It was from my conversation with Gillingham that I first learned to distinguish between "original" Pietenpols and later modifications most commonly based on Grega and Niebauer's drawings from the 50's. These were the plans Giff had used originally, although he subsequently got a set of Pietenpol's drawings. I got the feeling he preferred the latter by hindsight, and since then have found many Pietenpol builders sharing his opinion. This raises the question of faithfulness to original drawings versus individual or marketed variations on the original.

Some custom aircraft designs seldom come from the shop bearing anything but general resemblance to the original. Others, like the Pitts, seldom deviate, even to the general arrangement of paint and trim! Ocasionally, the first few plans-built versions develop the design in a certain direction which then become normative for all subsequent examples. Thorp T-18 admirers may be surprised to learn that the prototype had neither a pressure cowl nor closed canopy, yet of the dozens of T-18s I have seen, not one lacked either feature.

Speaking of the Pitts, how many youngsters know that the first Special was powered by a 55 hp O-145 Lycoming? Radical designs such as the Dyke Delta or Rutan canards intimidate builders from making random modifications, a situation wich no doubt pleases their designers. No designers seem comfortable with wholesale changes as one could understand both from the point of pride as well as safety considerations. Apart from the wildly fluctuating world of powered hang gliders, no custom design has received more individual departures from "original" than the Pietenpol.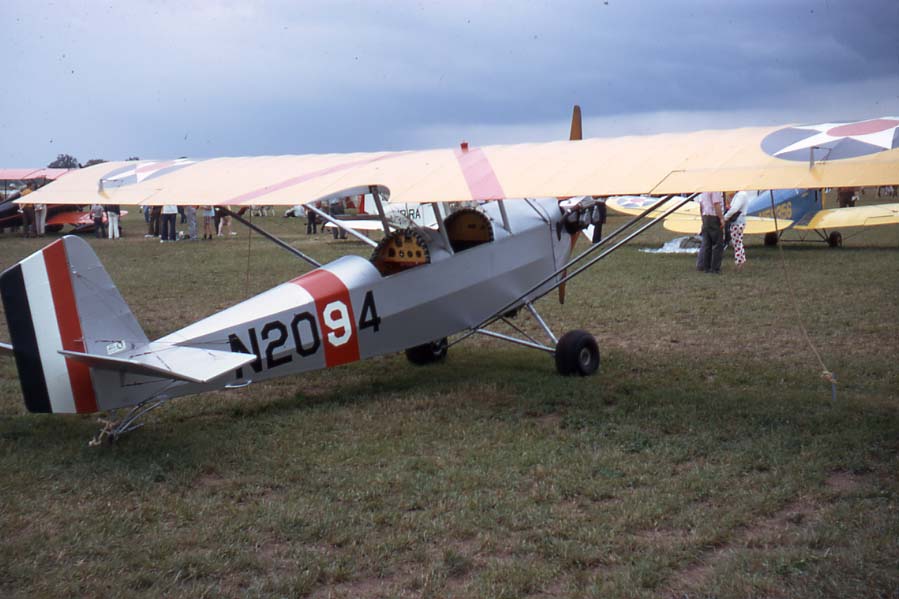 Another inspiration: Bill Rewey's FIRST Pietenpol
* * *
Beside the legendary variety of powerplants builders have hung on its nose, the Pietenpol has been built as a floatplane, a crop duster, a bi-plane and even as a centerline thrust twin! Originally built for the 200 cubic inch, water cooled Model A Ford engine, I have seen Pietenpols with all the subsequent air cooled lightplane engines: the Continentals, Franklins, small and large Lycomings, Corvairs, and Olds V-8 315, a Chevrolet Vega 4 and a Mercedes diesel! Also reported were Pietenpol's own Velie radial and a reduction-drive Ford Fiesta 4. The single place version, Sky Scout, was designed for the Ford Model T powerplant.
For pure originality it is the Model A which seems to come closest to the mark, but Pietenpol's own experimentation particularly with the Corvair opens the door of propriety to substitution of whatever is available and economical to the individual builder. His revised drawings not only give the original designer's blessing to Corvair installations, but also show Continental 65 mount drawings. Many of the GN-1s changes are also achieved by these revisions. The GN-1's clipped J-3 wing option may be one of its weaker points, particularly when considering that strong arguments have been advanced against them even on J-3s with low power (65-75 hp).
Apart from performance and strength values related to competition aerobatics, comparison of clipped versus full-span wings on the 65 hp Cub itself show that the full span version outperformed the clipped model by 50% in take off roll, 21% in stall speed, and increased payload capability while only giving up 7% in cruise speed. Glide and sink rates also favored the long wing. So while the wing area of clipped Cub panels at 143 square feet is comparable to the original Pietenpol's 145 square feet, actual performance considerations may favor using the entire J-3 wing panel on the GN-1 rather than the clipped option. This is the arrangement I used on N7152 yielding a wing area near 190 square feet. Though very light-footed in gusty air, the roll rate feels similar to the venerable Cub.
* * * The above account was written about 1980 and needs to be completed. The memories were fresher then, only two years after first flight. Each year we went to Oshkosh and eagerly inspected the Pietenpols. There were years when an entire line would be Pietenpols. The highlight was when Bernard himself was there with his Corvair powered Air Camper. Allen Rudolph continued to bring his original Model A plane which we were delighted to see again recently at Blakesburg. There would be a Pietenpol forum, usually led by Vi Kaplar. He is of the inner circle of Pietenpols and his word, deliberately delivered, is authoritative. The rise of the Brodhead phenomenon was still in the future at that time. Bob Taylor had a fondness for Pietenpols and promoted a type club at Blakesburg, which he still does. The Ohio Buckeye club and newsletter were also yet to come. All of these things were welcome additions to Pietenpol interest. Don Pietenpol has published a compilation of his father's instruction books on construction and engine conversion which is now available from him. Chet Peek has added another to his line of great antiquer books with one about Pietenpols. It is great to see this continuing interest in the old original design from Minnesota.
One of the leaders of the Buckeye group was Frank Pavlika who, with his son Frank Jr., built the beautiful Sky Gypsy. But before that my favorite builder was always Ed Sampson. Ed built aircampers that were completely true to the orginal design, simple and elegant, built light and quickly. He is a "purist" and no one is more vocal about making so-called "improvements" to the design than he. It is true though, that he also built a Bowers Fly Baby and so demonstrated that no one is perfect. It should be noted that Pete Bowers was himself a Pietenpol fan and restorer who did a lot of flying in a Model A version.
One of the best: the "Pavlika Sky Gypsy"

* * *

Back in the fifties and sixties, many factory lightplanes and components were "rejiggered" into homebuilts. This could even be said of the revised Corben design, Poberezny's famous Baby Ace as featured in Mechanics Illustrated. In Ohio two gents named Grega and Niebaur, mentioned above, did a similar rehash on the Pietenpol. Essentially, they Cub-ized it with J-3 landing gear including tailwheel, engine mount, Continental engine, cowl and prop. The wing was also redesigned to use all J-3 hardware and be in three pieces with a conventional center section. An option was to use clipped J-3 wing panels. It made sense in the early days, but with the rise of the purists this came in for a lot of criticism.

When my plane was finished I did not hesitate to send a picture of it to Bernard with thanks for his great design. As I recall, he responded with no hint of disregard for this variation on his airplane. As with others who innocently built from the GN-1 plans, the airplane flies just fine and we are inclined to call it a Pietenpol in spite of the purists. In later years Bernard drew plans for Continental engine installations, authorized a three piece wing and even put modified Cub landing gear on his Corvair model. It seems Bernard himself was not a purist! In retrospect it would be preferred to use Pietenpol plans which are now very accessible again, for a lighter and more original product. It would take devotion beyond mine to go for the Ford version, however. I would try to duplicate Sampson's Continental powered example.

Homebuilders who are confirmed scroungers will recognize the instincts shown in the following stories. For more than ten years we drove around the Chicago area daily as part of work, and were naturally always attracted to airports; especially airports that were being dismantled and hangars demolished. There was a lot of that going on around Chicago in the sixties and seventies. Moody-Wooddale was one such western suburb field that was closing. It was located in Wooddale and had been used by Moody Bible Institute in their missionary aviation training program. There we found some sections of streamlined tubing and a J-3 carb air box in need of repair. That air box has been on the Pietenpol ever since, the tubing is on inventory and may have provided splicing material for the front struts. On a subsequent visit to Abe's we looked in vain for J-3 front struts and settled instead on an L-3 strut. They are the same size front and rear and are welded together at the base; really stout. They were still in olive drab and it was a shame to cut up one and leave the other, but they have worked very well. As I recall the cost was $15.

Sky Harbor was another field closing down at that time. A whole row of T-hangars were being demolished and we found some sheet aluminum there that provided small cowling sections. Apart from scrounging, there were some interesting sights to be seen on Chicago airports. Across the street from Palwaukee was an F4F Wildcat by a bar. On Chicagoland an F6F Hellcat was tied down outside. It became part of the Kalamazoo air zoo years later. There was also an AT-11 at Chicagoland. Jerry Walbrun had his P-51 at Palwaukee. Bill Ross had his P-38 flying out of Dupage County and a B-25 sat in a field southwest of Clow airport. Earl Rhinehart's "Victory Air Museum" up north had derelict Spanish Messerschmits, a black B-26 and a P-47. Along old highway 53 was an airport with a Ryan PT-22 which had been vandalized by burning the wings. An abandoned Fairchild PT-19 fuselage sat in the trees. It was an interesting time to be in Chicago.

Having seen the fruits of scrounging in Chicago, we applied the same technique in Nebraska. When Arrow Airport in Lincoln was being transformed into a dump we picked up a Luscombe nose bowl, exhaust stacks and a Continental prop hub. Hopefully the statute of limitation on trespassing these places has run out.
Bill Rewey's SECOND Piet. Now its a Light Sport Aircraft. Bill now does Oshkosh forums.

* * *

When the wings from Abe's were acquired, they did not go to the campus but to skunk works II, our first house in Des Plaines just outside Chicago. There a two and one-half garage made airplane work a pleasure. The work to be done on N7152 was more like today's "quick build" kit than most homebuilts thanks to the work already done by Giff. Much attention was then given to procuring and installing an engine. The Corvair was the initial choice and it was quite a breakthrough when it was discovered that a J-3 Franklin mount would bolt both to the GN-1 firewall and the Corvair engine with the relocation of only two bolt holes. The final engine was the Continental 65 though, as we will tell in the engine section.

The covered wing was in fine shape; we zinc chromated the metal parts and kept the cover for a pattern as advised by all the books. The other uncovered one needed more attention. A new spar was ordered from Wicks Organ Company in Highland, Illinois, and arrived by truck. All aircraft wood for our projects has come from Wicks ever since, with complete satisfaction. Control cables were made up with nicopress sleeves, thimbles and shackles picked up at Oshkosh and from Wag-aero, who then offered surplus cables at good prices. A rubberized horsehair cushion from one of Abe's Ercoupes was divided in half and recovered with pleated black vinyl. It is about as comfortable as a Pietenpol seat can be. A "bucket" type seat was covered for the front with a hinge to access the master cylinders beneath. They were from a Triumph car and connected to the standard J-3 Goodrich bladder brakes. The less said about these brakes the better.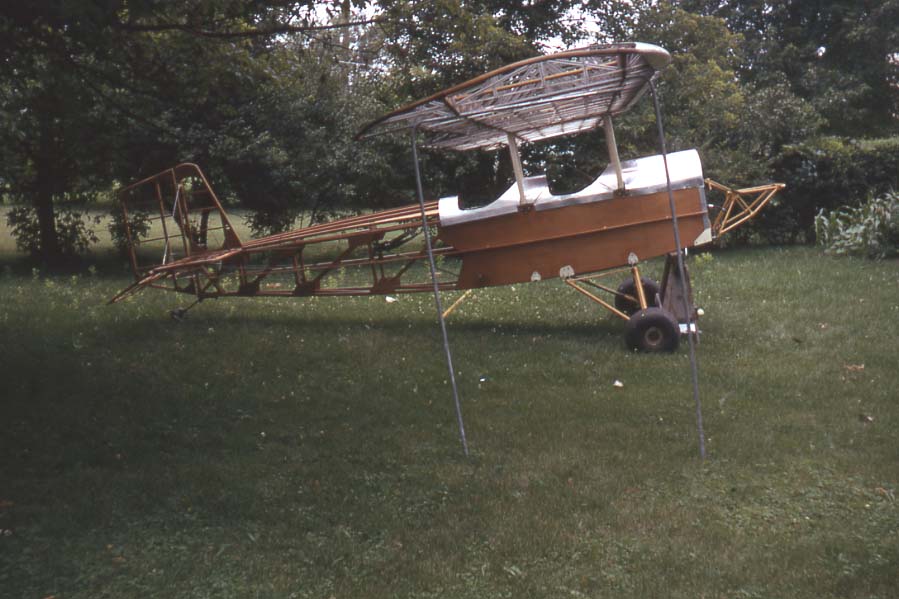 Precover assembly, note the Franklin mount

* * *

It was time to think of a pre-cover inspection. Since Des Plaines had its own FAA office it was not difficult to secure an inspector. The EAA homebuilder guide took us through each step of the registration and license procedure including sending for an "N" number and requesting timely inspections. I was much more innocent and trusting in those days about the "federales." I just naturally expected a good outcome, and in fact all the outcomes with N7152 were good ones. The only two things I remember about that visit were that he suggested less tension on the drag/antidrag wires and "don't even think about putting those small numbers on". I guess he was 50% correct, which wasn't bad for an FAA man. Small numbers were just coming into vogue then but that's the reason for the big numbers on N7152.

Dip Davis over in neighboring Elk Grove Village put on the covering forums at Oshkosh for Ceconite in those days. Cooper Aviation and its various successors through the years have supplied both my projects with fabric (2.7 oz.) and dope (Randolph). Dip has been with the whole time. The process is easy and because it's easy and the results are so dramatic, it's also fun. And because you do it yourself it's also cheap. The whole covering process through finish color for N7152 cost about $300. It was a training exercise for later covering projects as well. I think it was presentable, but did not get enough wet dope on the wings for anything but a flat finish.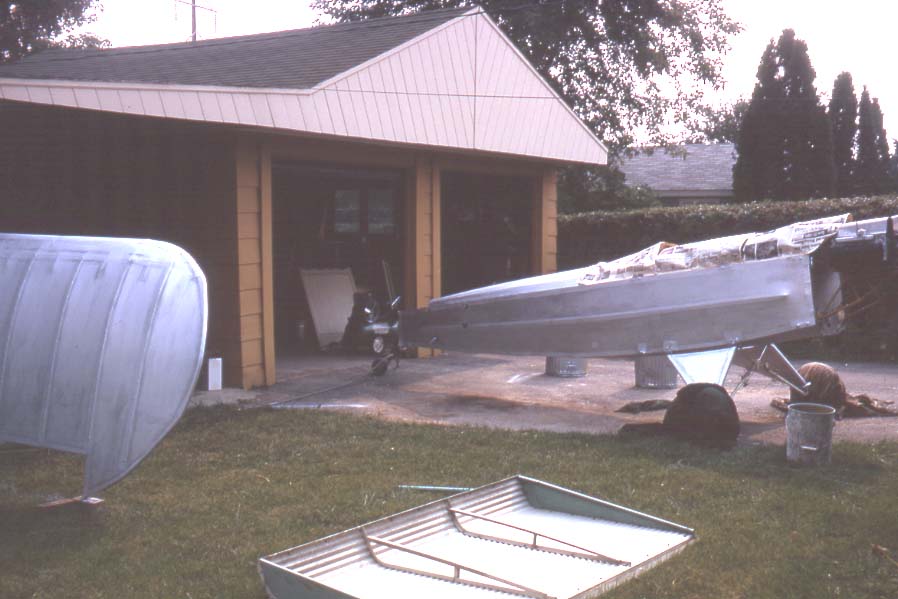 Covering underway at "Skunk Works II"

* * *

The color scheme was from a prewar Stearman in Air Progress. The desired Dupont olive drab color wouldn't cover, so a dark green was substituted. As Tony Blackstone had taught at Oshkosh, you can mix Dupont Centauri laquer with nitrate dope for your color coats. It works, but Tony's jobs turned out nicer. I ran out of dope, so painted the gear vees with enamel as with the metal parts. They hairlined after 5-10 years, but the dope didn't start to show cracking for 25 years and the wings didn't have enough dope on them to ever crack. Needless to say, I chose the same system for the next job. By then, car paint was just as expensive as Randolph's pigmented butyrate for the colors, so no more Duponts.

EAA Chapter 89 was my local chapter, and Giff's, and a young man wanted to observe a covering process for his dreamed-of Pitts project. He and a couple of friends came over one Sunday afternoon and volunteered their help putting on surface tapes over the wing ribs. We had a good time and I hope he got his Pitts. I learned something about volunteer help that day, as it became evident that they were laying the tapes on dry and then just doping over them! Poor supervision on my part, but with most doping goofs it was easily fixed. Being overly cost-conscious I cut my tapes from scraps. Machine cut tapes look much nicer. During those years my brother Lowell helped me a lot with the project (thanks, bro).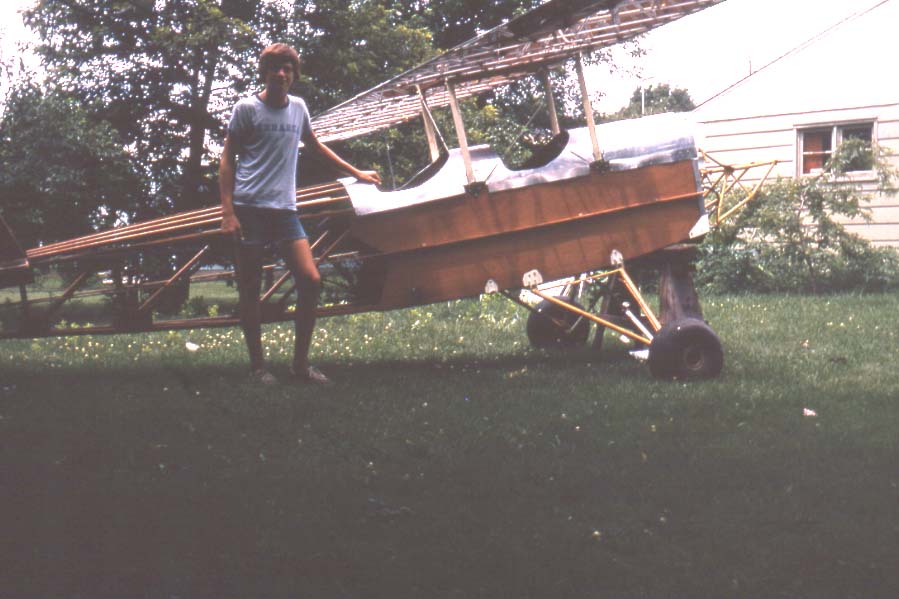 Brother Lowell, enthusiastic assistant

* * *

I have a couple of memories from chapter meetings that stayed with me. There was a Starduster builder named Doc Psota who was very entertaining. In those days Jim Bede was coming up with a new revolutionary design every couple of years that promised the world and often didn't materialize. One of these early examples was his "demoiselle" for VW power. We had some VW pioneers in the chapter; Ken Flaglor with his "Scooter" and Dick Doyle's "Moon Maid". The Bede design had an aluminum tube going back to hold the tail, and in his usual pipe-dream fashion had touted this as a baggage area ideal for a fishing pole. Though this was before the BD-5 fiasco which nearly got Bede lynched, most savvy members were already wary of him. Doc got a big laugh at the expense of all those gullible west coasters who "already had their fishing poles in there" before that design went belly-up. Another chapter builder put the room in stitches when he referred to his Emeraude project as his "hemorrhoid".
VW Powered "Moon Maid"

* * *

The days at skunk works II were great but lasted only five years. Then a trailer had to be secured to transport N7152 to a new home. That would include an airport just down the road and the hangars of "skunk works III".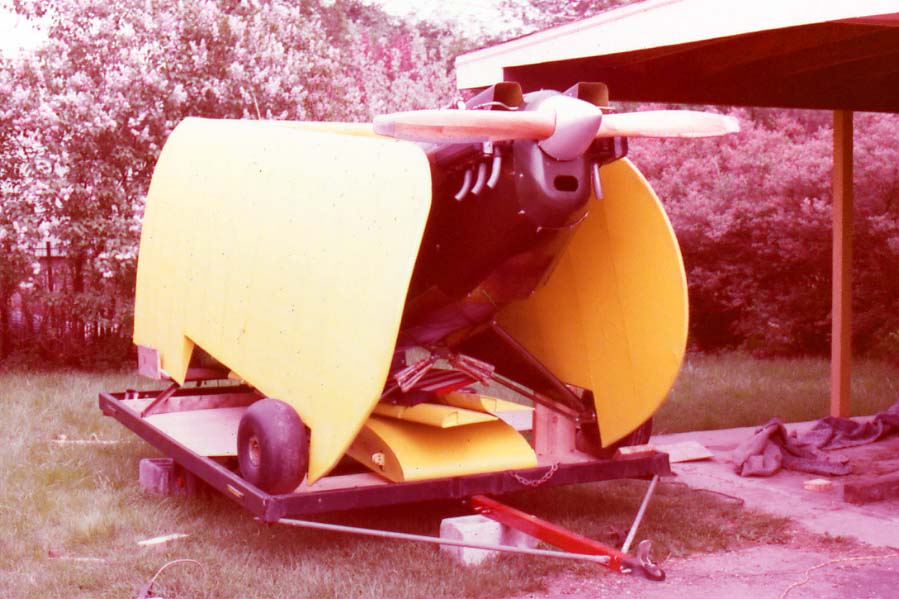 Ready for 500 mile trip west

* * *

After getting settled at Stromsburg, Nebraska, and joining the wonderful local flying club we occupied our thousand dollar hangar, the one with the stubborn doors, and set about final assembly and...the wild blue yonder.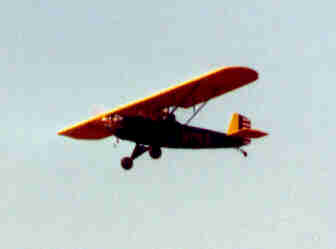 Airborne!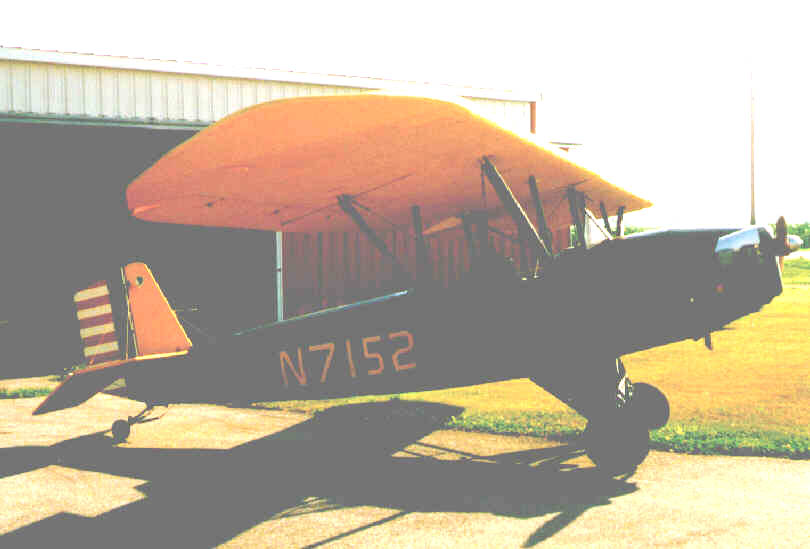 N7152 after twenty years - at Harlan Airport
* * *